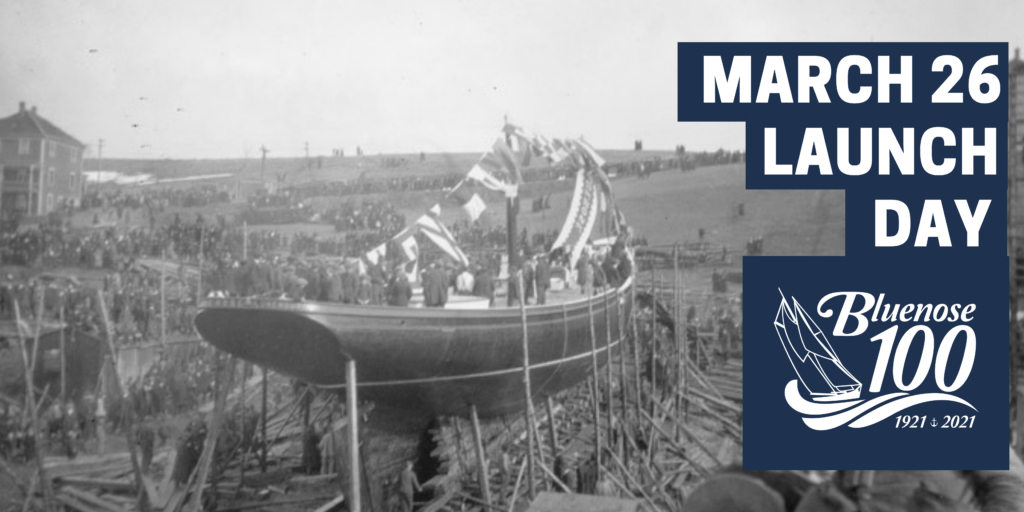 Hello readers!
It's now the beginning of March – which means it's time to get excited about celebrating Bluenose 100!
The 100th Anniversary of the launching of schooner Bluenose takes place this March 26th, and we're kicking things off with a virtual celebration starting at 10:00 am AST – we hope you will join us!
Of course we had hoped that we would be able to celebrate Bluenose 100 in person this year; however the story of Bluenose is one of strength and resilience – and one that began in similarly trying times. As we celebrate, let us remember the strength and the resilience of this famed Nova Scotian schooner and her crew, and let us remind ourselves that strength like theirs is still at the root of who we are as people in Nova Scotia today.
It is also because of this resilience that the story of Bluenose is so iconic.
Of course, the thrilling tales of Bluenose racing across the finish line in the International Fishermen's Cup are iconic! Of course surviving a gale of epic proportions with Captain Angus Walters lashed to the helm off Sable Island in the spring of 1926 is iconic! Of course the fact she was built in 97 days is iconic, and of course her design by William J. Roué is iconic!
But at the root of all of these thrilling tales is the grit and determination of all of the Nova Scotians behind her – from the workers in the sawmills, the shipwrights, the blacksmiths, the block makers, the sail makers, the riggers, the outfitting companies, and the crew of brave and brilliant men who sailed her, toiling the treacherous fishing grounds for months at a time.
It is this spirit that we wish to remember and celebrate when we look back at 100 years of a Canadian icon.
So even though we aren't able to celebrate in person, we hope you will join us on March 26th with the Bluenose spirit in your heart!
All Items