Experience the Bluenose's 100-year Timeline.
Scroll Down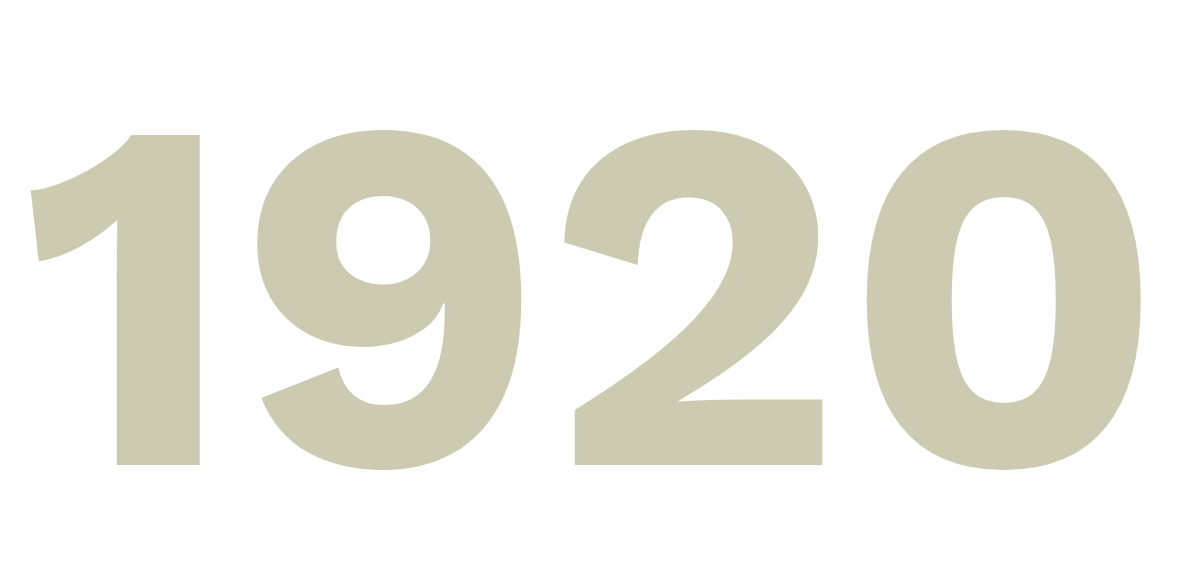 America's Cup yachting challenge race called off because of 23 knots of wind. Fishermen on board schooners from Nova Scotia to Boston are not impressed. A race for "real sailors" is born.
The race features the best fishing schooner from Nova Scotia competing against the best fishing schooner from Massachusetts for $5000 dollars prize money and the honour of hoisting the International Fisherman's Cup.
The inaugural International Fisherman's Cup race is held off Halifax at the end of October and the beginning of November. Esperanto from Gloucester, Massachusetts defeats Delawana from Lunenburg, Nova Scotia two races to none and wins the Cup. Calvin Coolidge boasts that the victory is a "Triumph of Americanism!" The New York Tribune nominates Esperanto's win as "the supreme sporting event of 1920!"
The Bluenose Schooner Company is formed to build a new fishing schooner to contend for the next International Fisherman's Cup race.
Captain Angus J. Walters signs on to be her master. Naval architect, William J. Roué, is hired to design the vessel.
Roué's Design #17 for the new schooner is given to Lunenburg's Smith and Rhuland's master shipwrights. Her cost is $35,580.76 to build.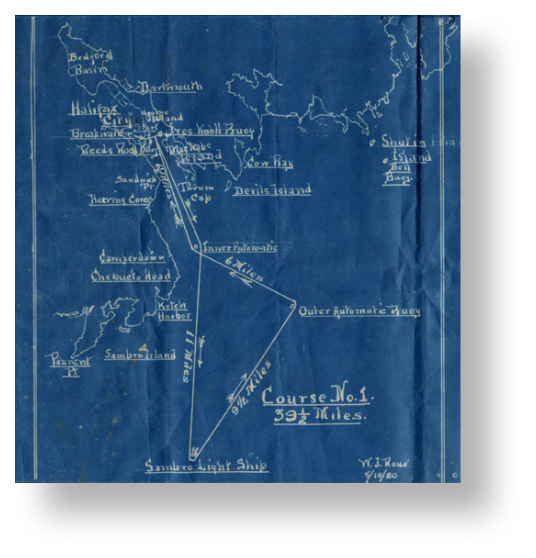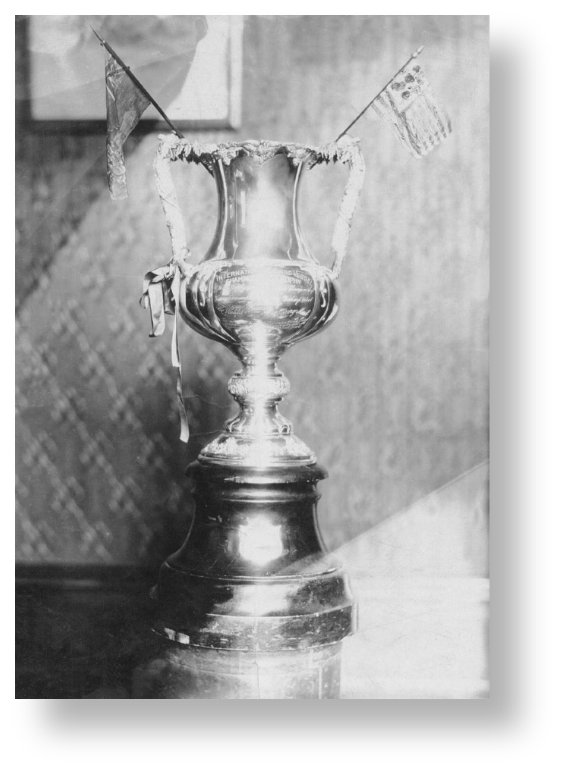 Historical images courtesy of Nova Scotia Archives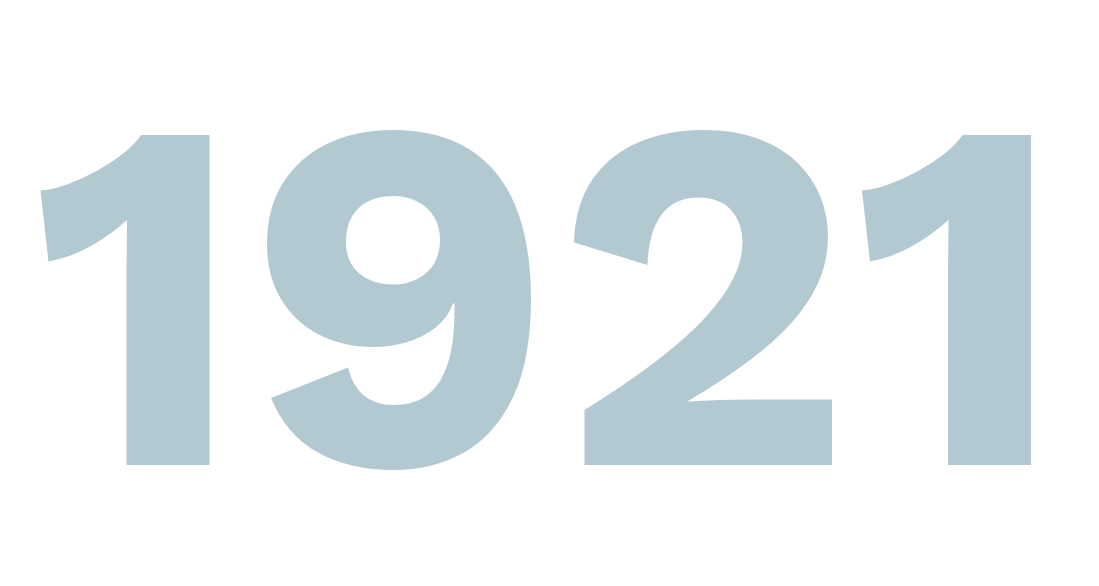 From "tree to sea" Bluenose takes 97-days to build and is named after a popular nickname given to Nova Scotians.
On March 26th, the most famous ship in Canadian history is launched in Lunenburg Harbour.
In April, Bluenose sets out to fish for the first time on the Grand Banks.
The defending International Fisherman's Cup's champion, Esperanto, sinks off Sable Island.
During the 2nd International Fisherman's Cup race held off Halifax in late October, Bluenose defeats Elsie from Gloucester winning two successive races and brings the Cup home to Lunenburg.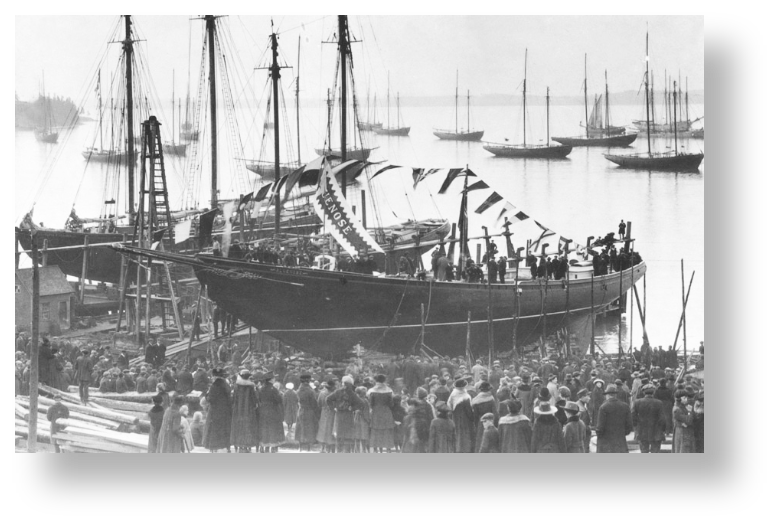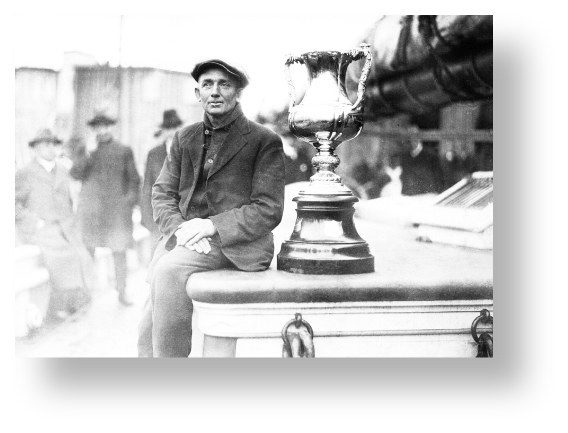 Captain Angus Walters with the
International Fisherman's Trophy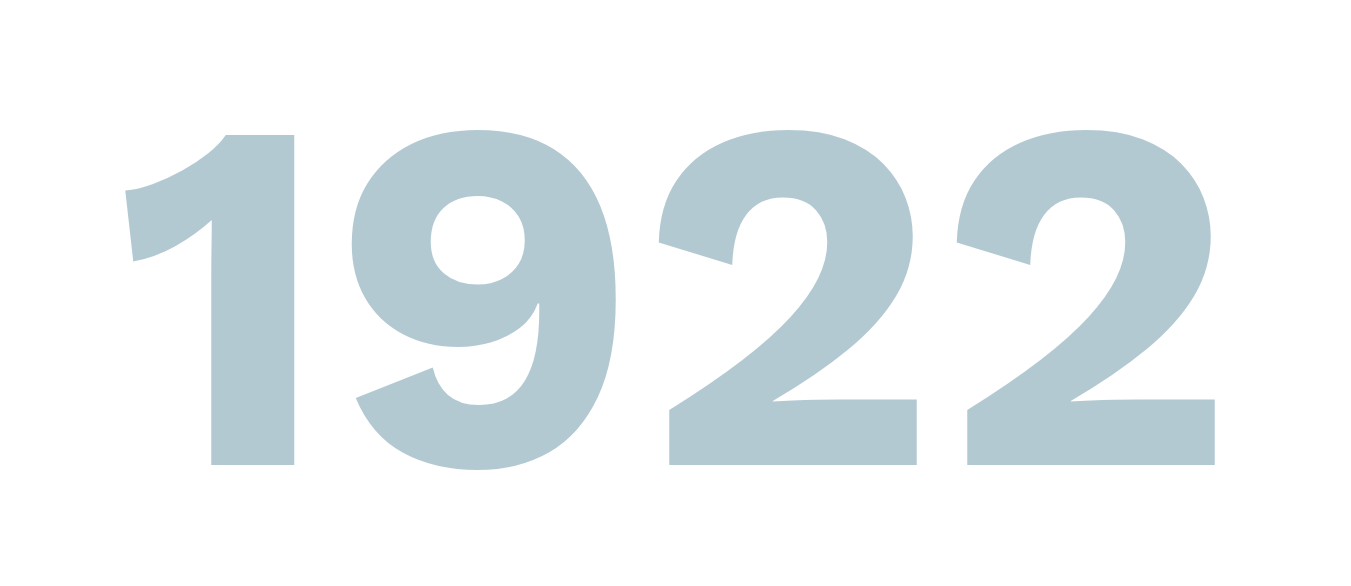 During the 3rd International Fisherman's Cup race held off Gloucester, Massachusetts in late October, Bluenose defeats American schooner, Henry Ford, two races to one and retains the Cup!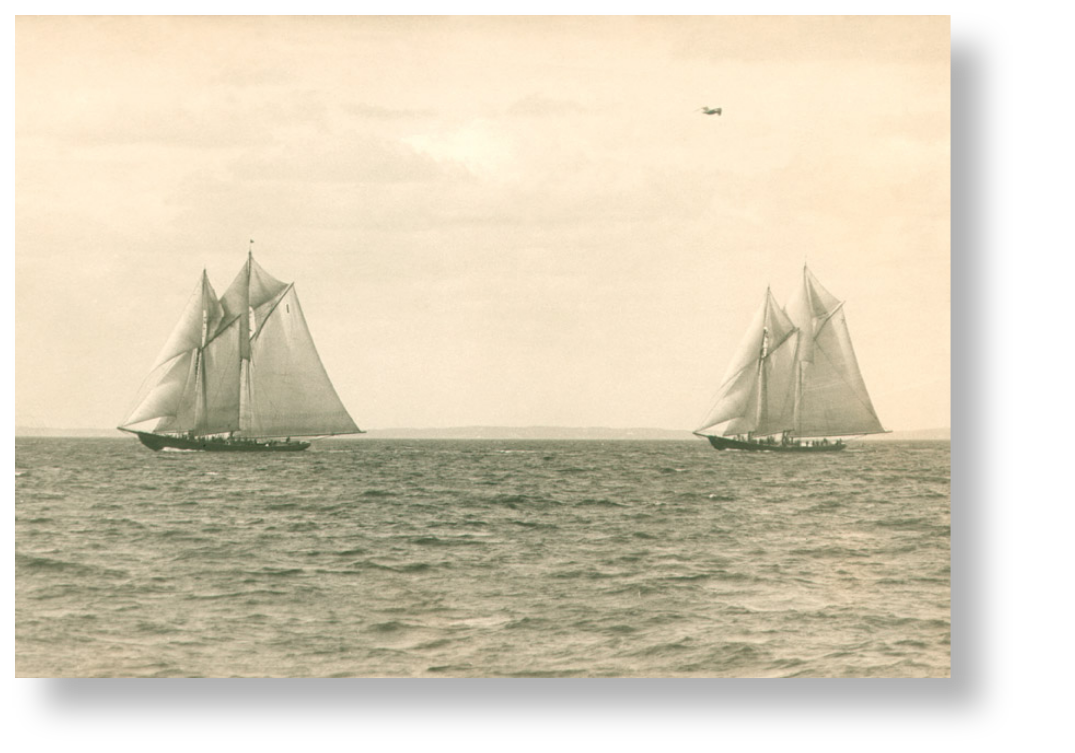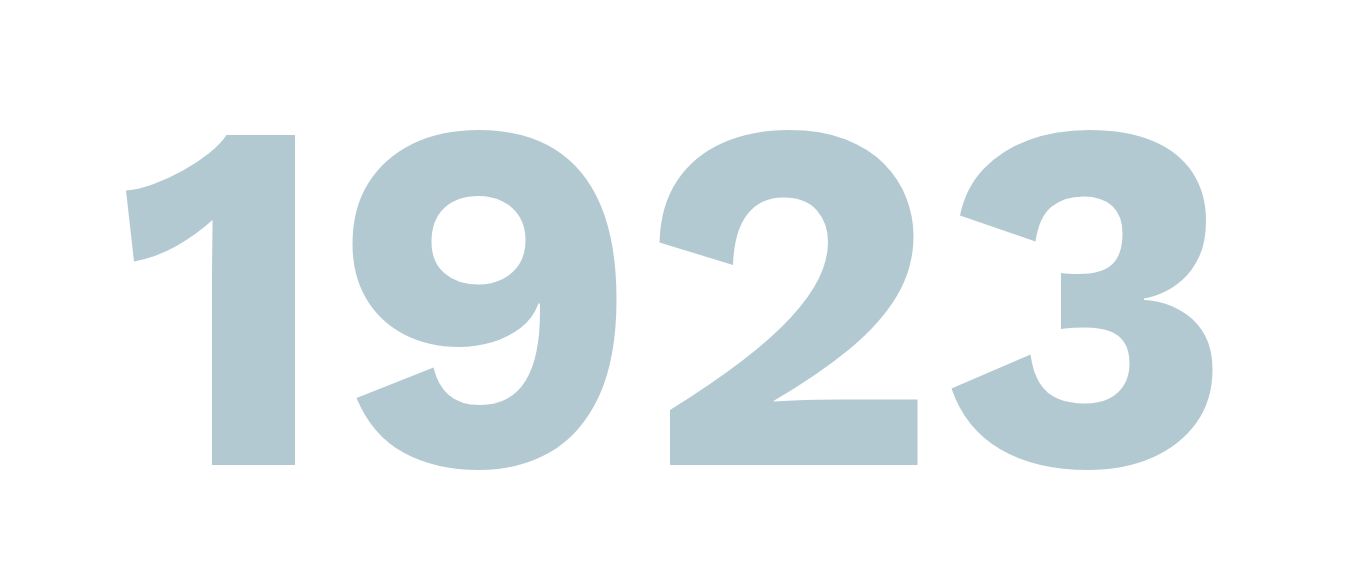 Columbia is the last American sail-only schooner built. She is primarily designed to beat Bluenose.
Bluenose is the Lunenburg Fleet's Banks' season "highliner" with a record catch of 213 tons of fish.
The 4th International Fisherman's Cup race held off Halifax, in late October and early November, between Bluenose and Columbia ends in a controversial tie with each schooner declared winner of one race each.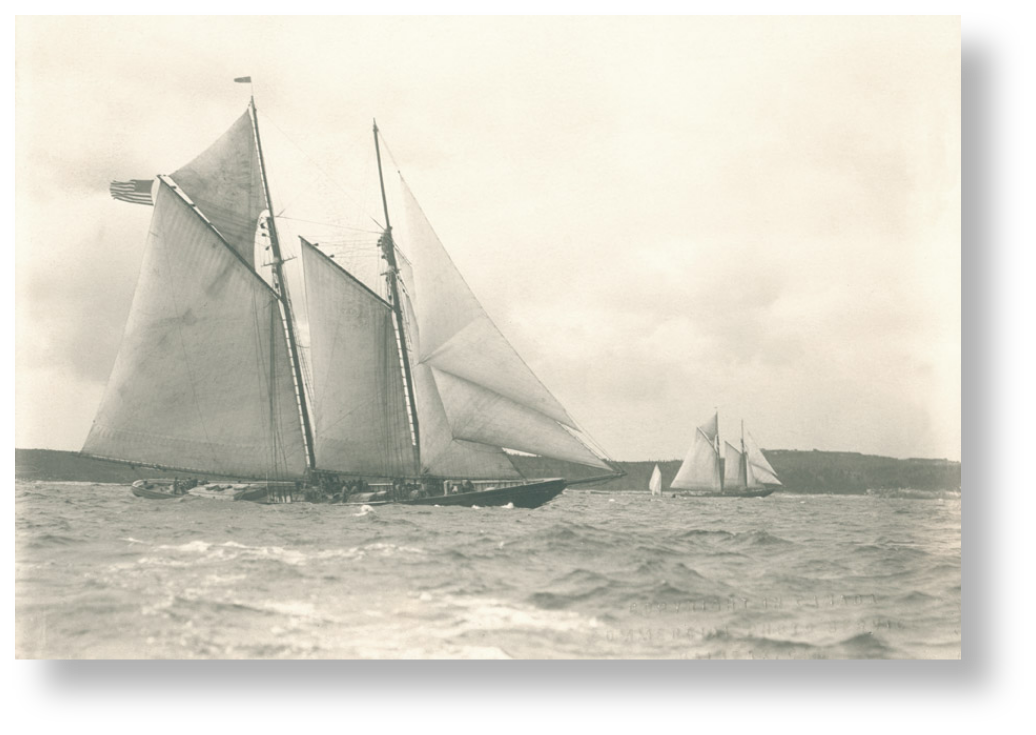 1926
Captain Angus Walters lashes himself to Bluenose's wheel for six-hours to keep her afloat during a vicious gale off Sable Island.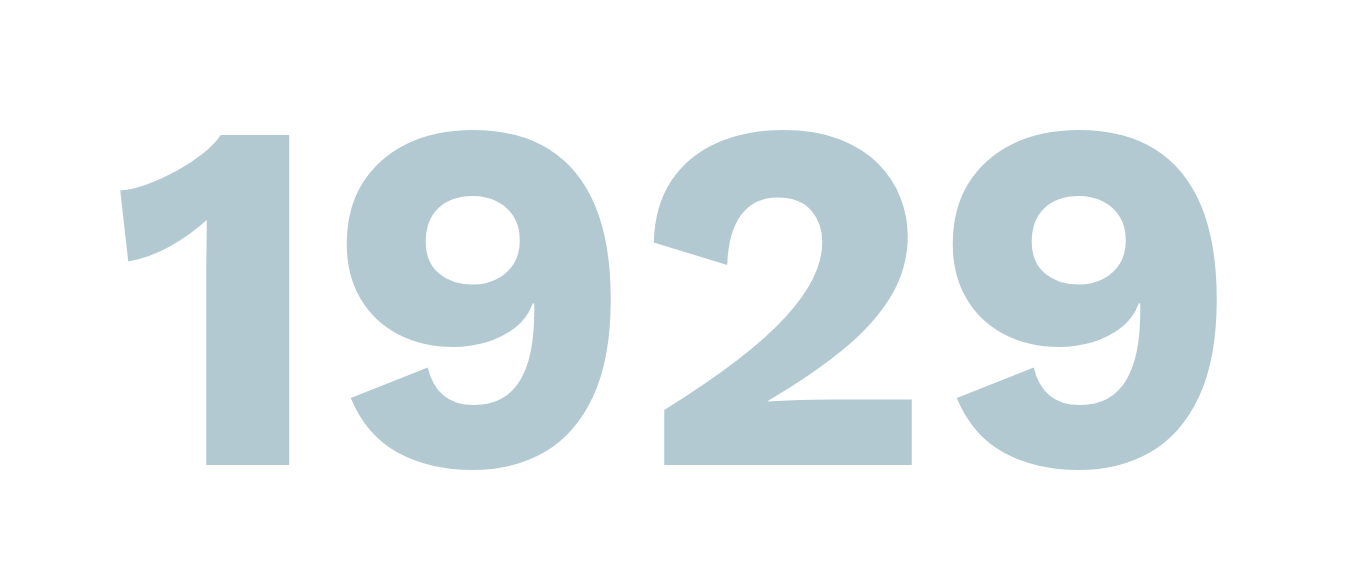 Bluenose, now long a national icon, is commemorated by the Government of Canada with a 50-cent stamp.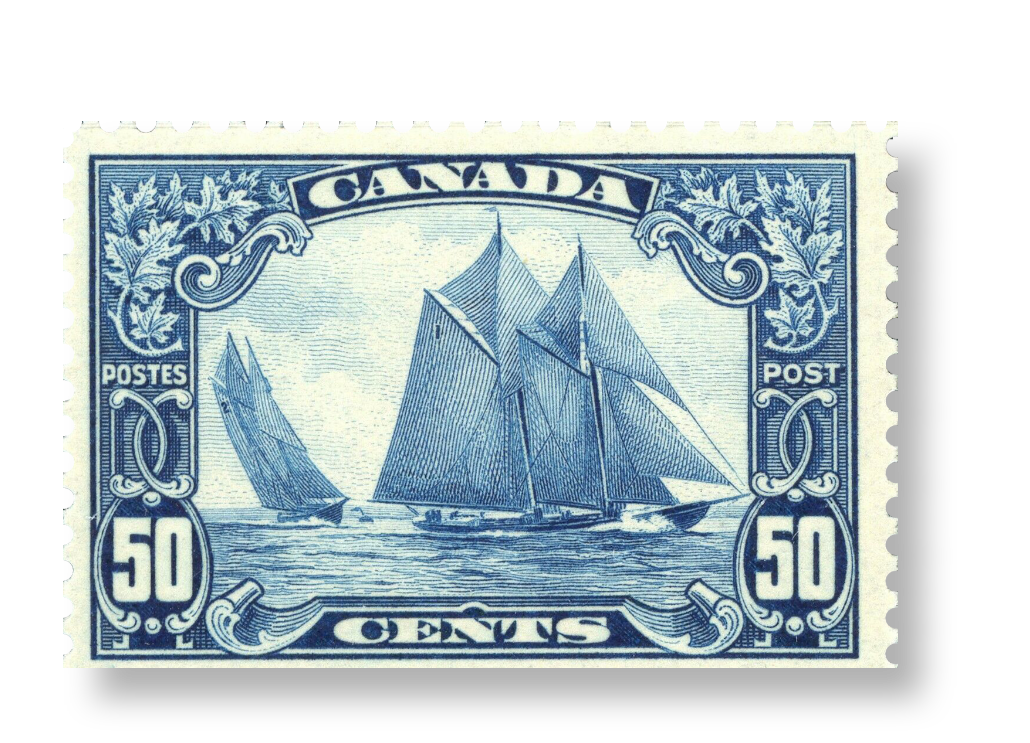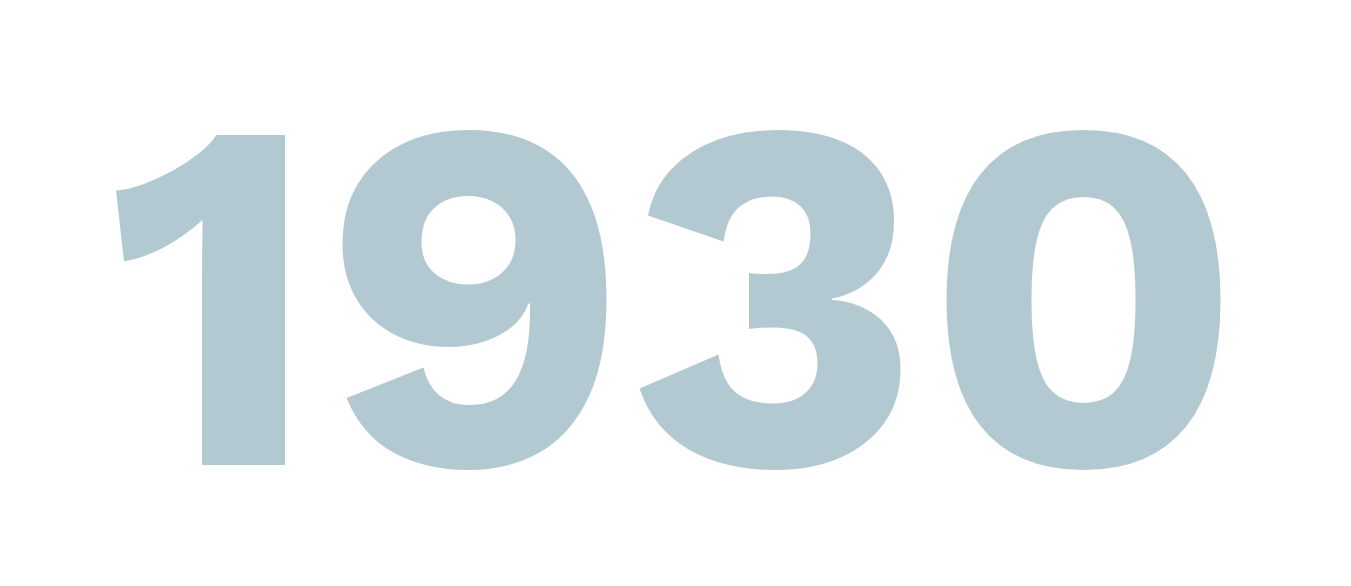 The American schooner Gertrude L. Thebaud challenges Bluenose to a special fisherman's race held off Gloucester, Massachusetts for the Lipton Cup and $5000 dollar prize money. Bluenose loses 2 races to 1.

Gertrude L. Thebaud challenges Bluenose to race in the International Fisherman's Cup. Bluenose accepts the challenge.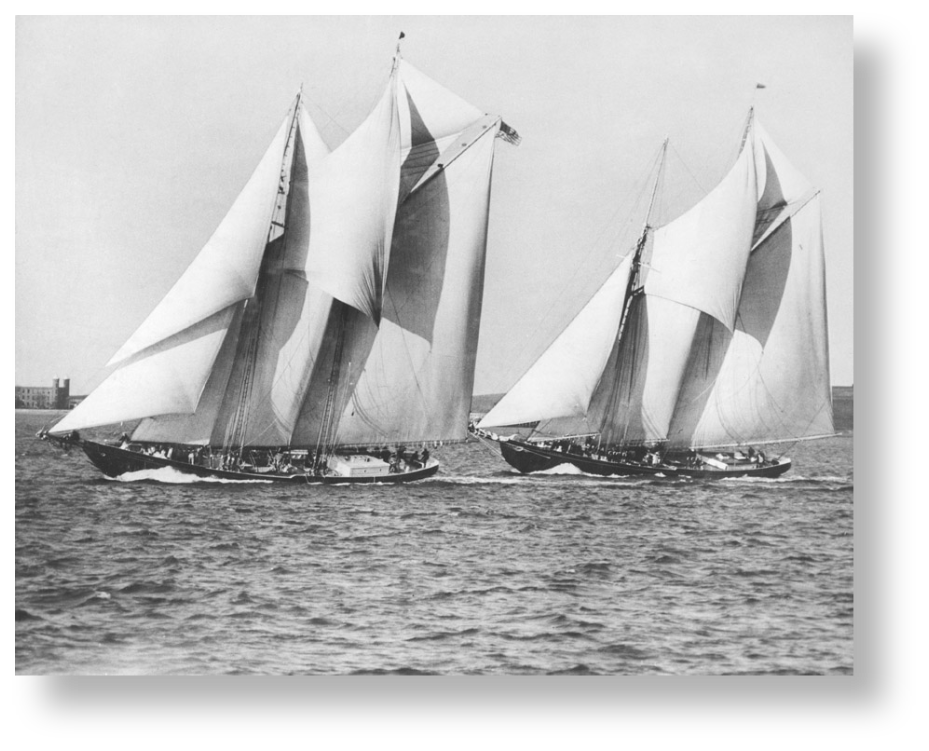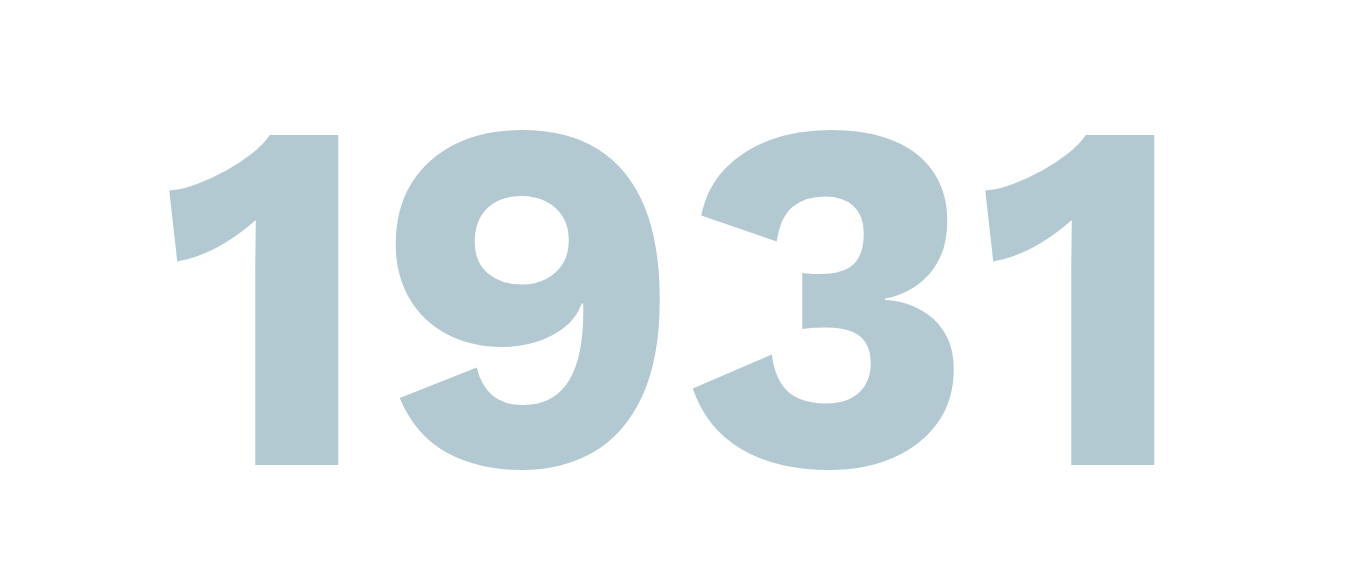 During the revived 5th International Fisherman's Cup race held off Halifax in mid-October, Bluenose wins two successive races against Gertrude L. Thebaud and once again retains the Cup!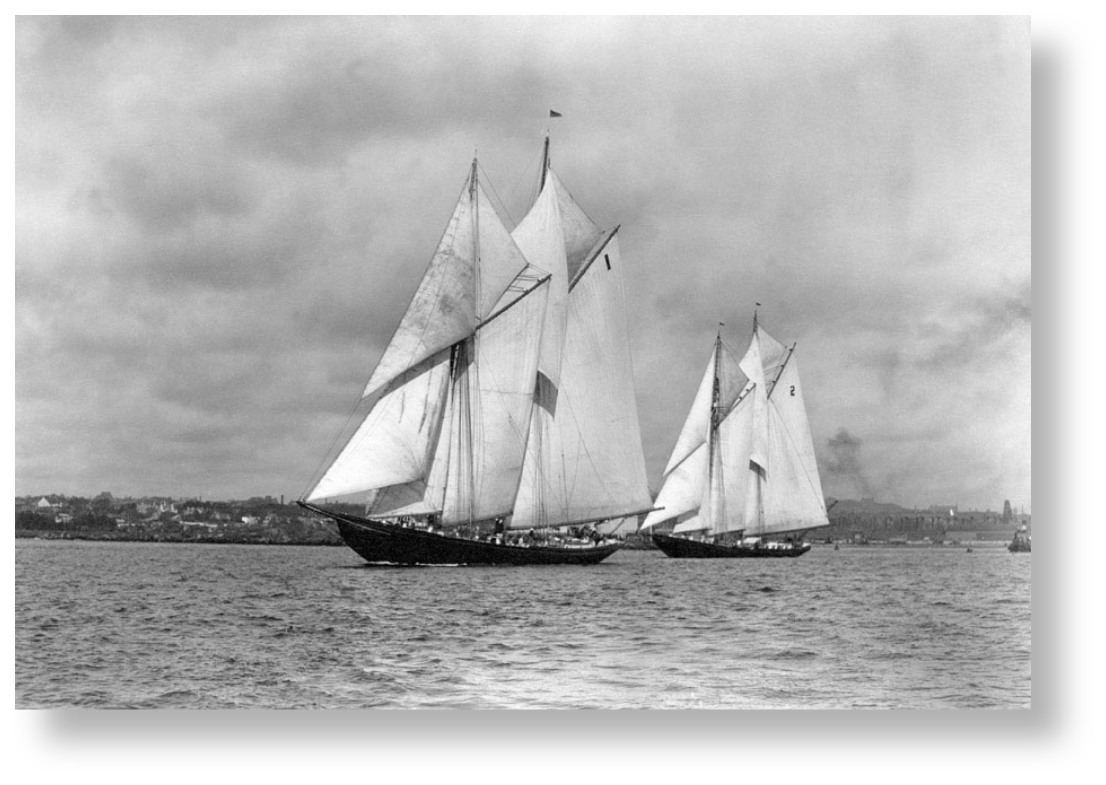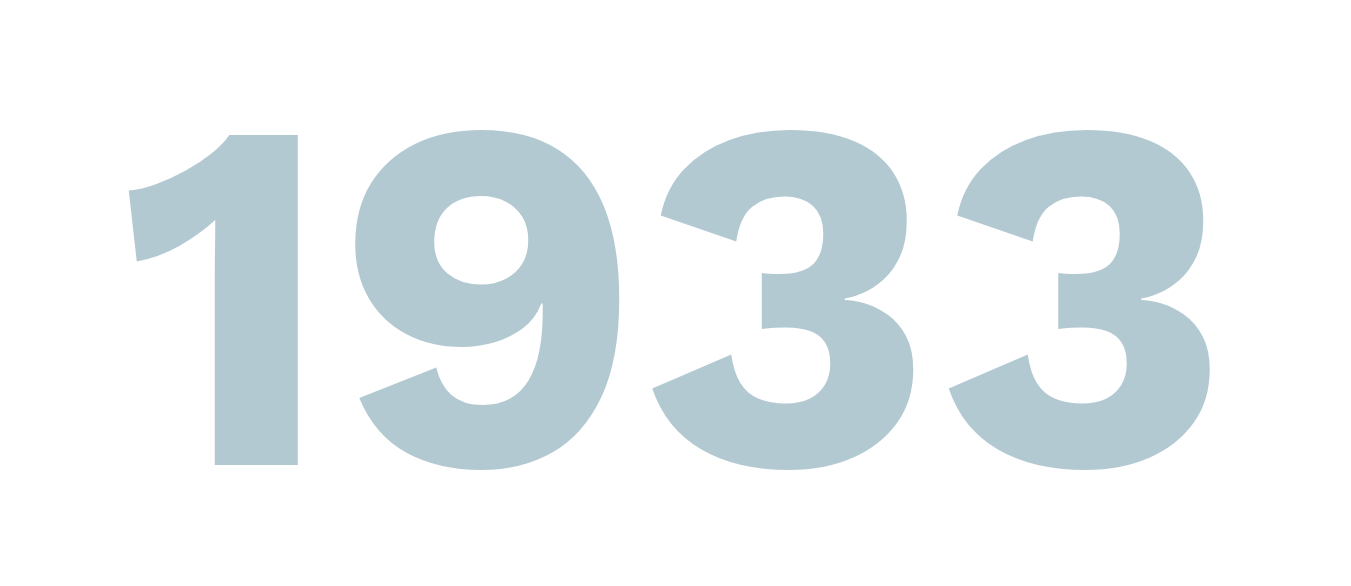 The Lunenburg Exhibitors Company formed and Bluenose's fish holds are replaced with cabins. Bluenose begins her new role as a goodwill ambassador.
Bluenose is invited to represent Canada at the Century of Progress Exposition held in Chicago.
At the Chicago Exhibition, up to 2,500 visitors a day visit her.
Bluenose wins the Mackinac Cup and its grand prize of a gigantic, 135 kilogram wheel of cheese during an all vessel race held at the Exhibition.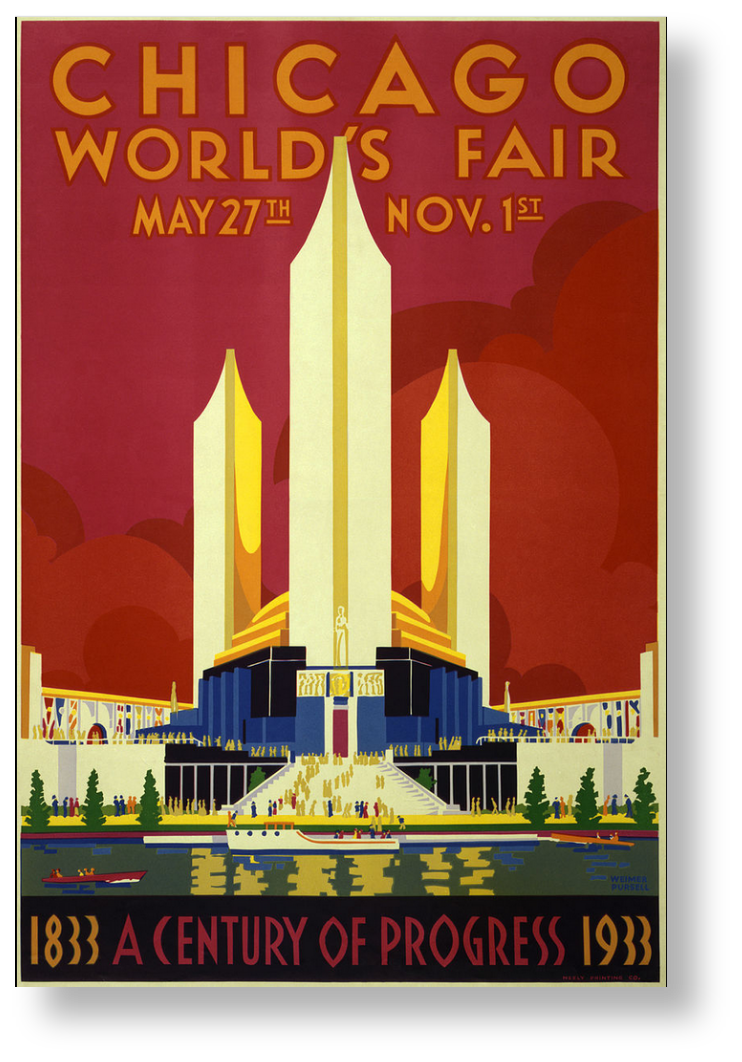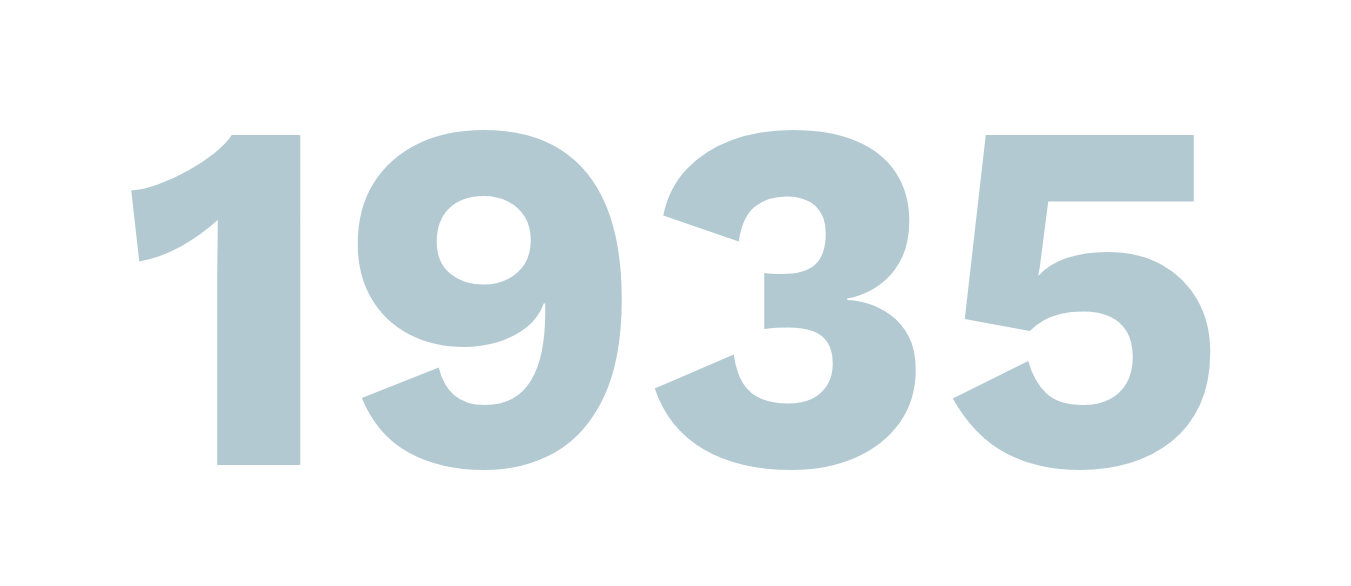 Bluenose invited to England to take part in a flotilla sailpast celebrating the Silver Jubilee of King George V.
Returning from England, Bluenose wins, as some say, "the greatest race of her life" surviving the worst Atlantic storm she has ever faced.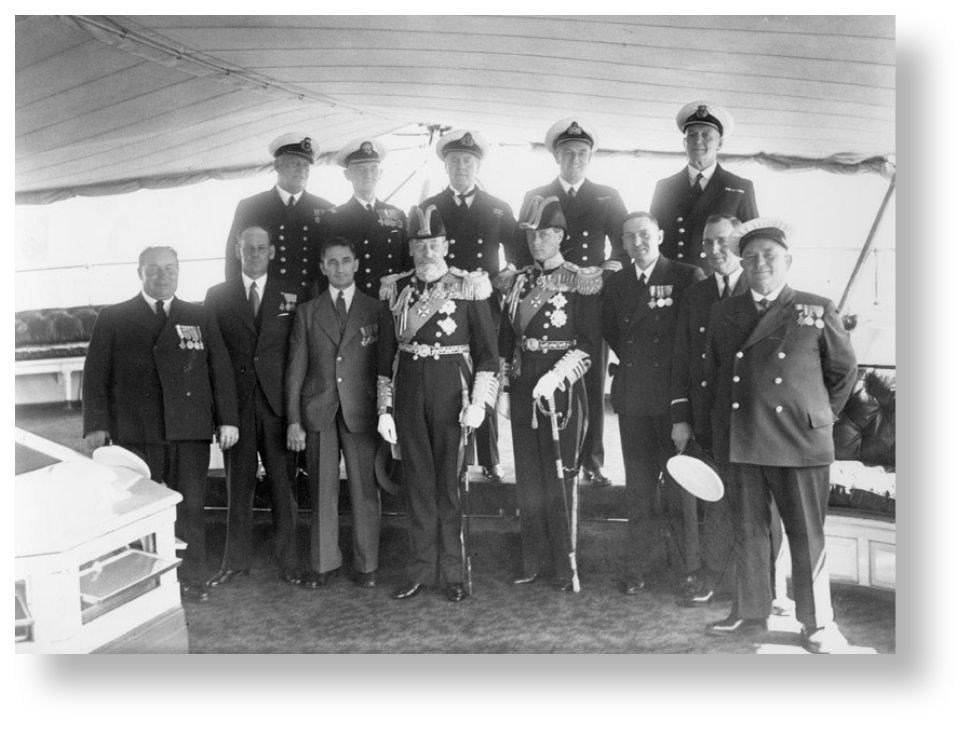 Angus Walters meets King George V
1936
Bluenose has two 90-horsepower diesel engines installed at a cost of $11,459 dollars.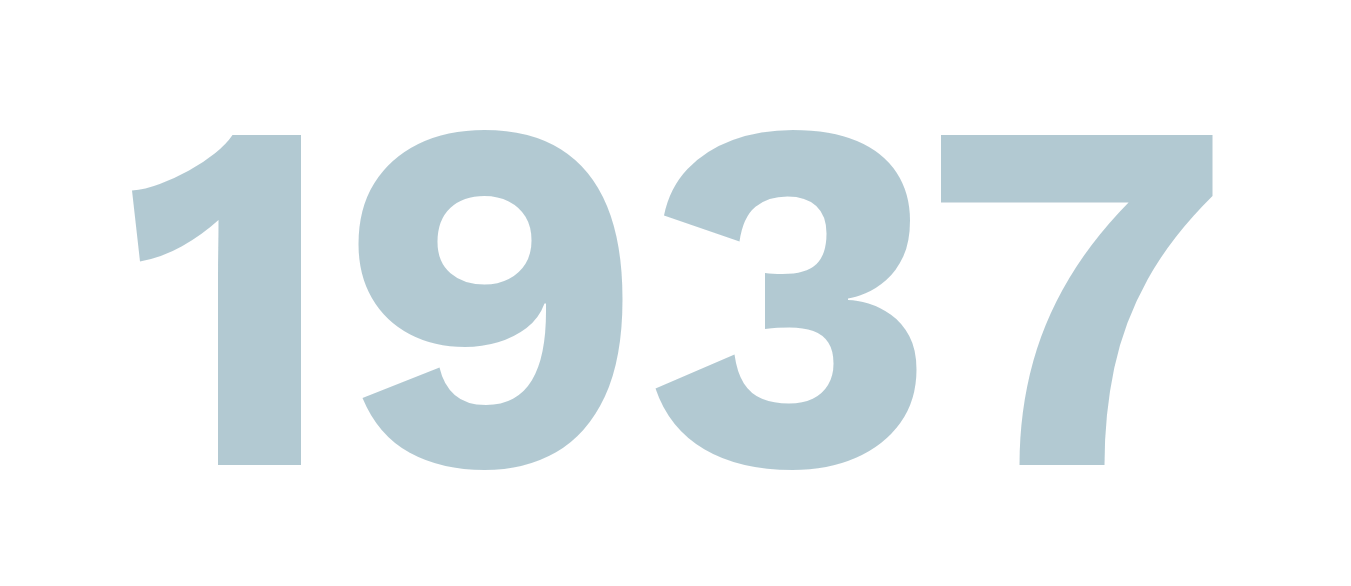 The likeness of a Lunenburg two-masted fishing schooner appears on Canadian minted dimes. The Royal Canadian Mint does not confirm that it's Bluenose until 2002.
The romantic age of schooners is resurrected with Hollywood's MGM's release of Captains Courageous starring Spencer Tracy.
With a rekindled interest in the "age of sail", a challenge is issued by Bluenose's archrival Gertrude L. Thebaud to once again compete for the International Fishermen's Race Cup, but for the first time in a best-of-five series.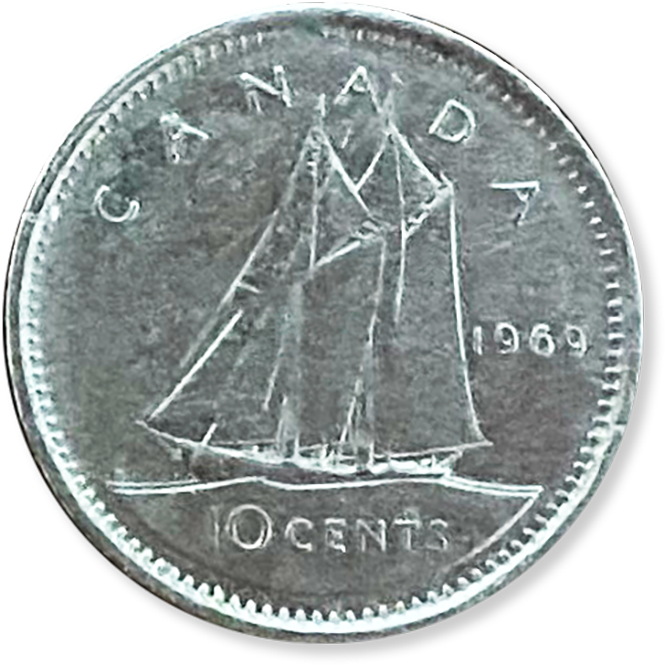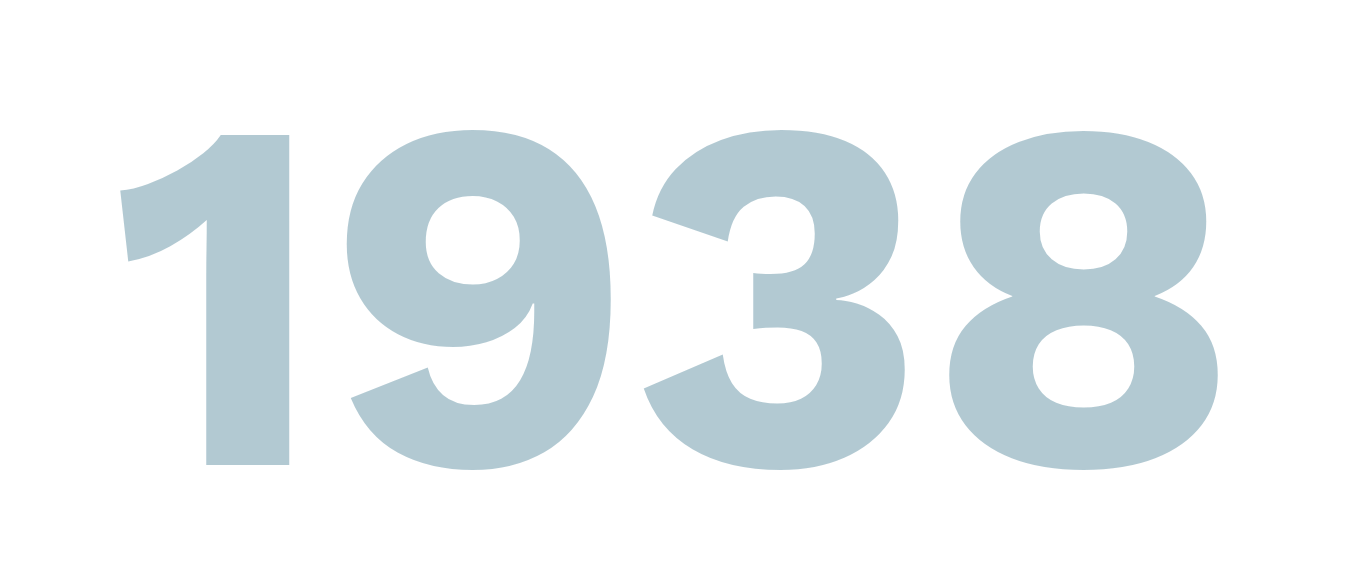 During the 6th and final International Fisherman's Cup race held off Boston and Gloucester in early and mid-October, Bluenose wins three races to two over Gertrude L. Thebaud and forever retains the Cup!
Captain Angus Walters' campaign to have the Bluenose recognized as a national treasure, with a permanent berth as a museum ship, falls on provincial and federal governments' deaf ears.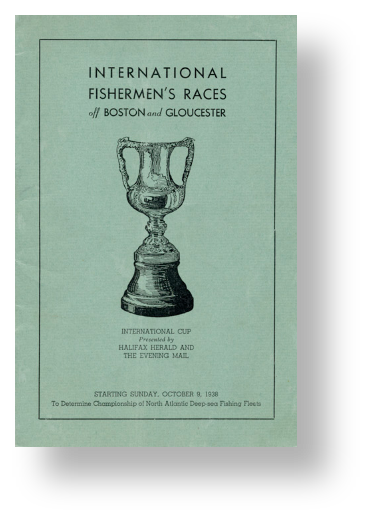 1939
The Second World War begins. The threat of German U-Boats in the Atlantic keeps Lunenburg fishing vessels and Bluenose off the Grand Banks.

Captain Angus Walters retires at the age of 58 and opens up Lunenburg's first dairy. He buys his beloved Bluenose for $7,000 dollars, one hour before it's to be auctioned off.
1942
No longer able to afford Bluenose, Captain Angus Walters sells her to the West Indies Trading Company.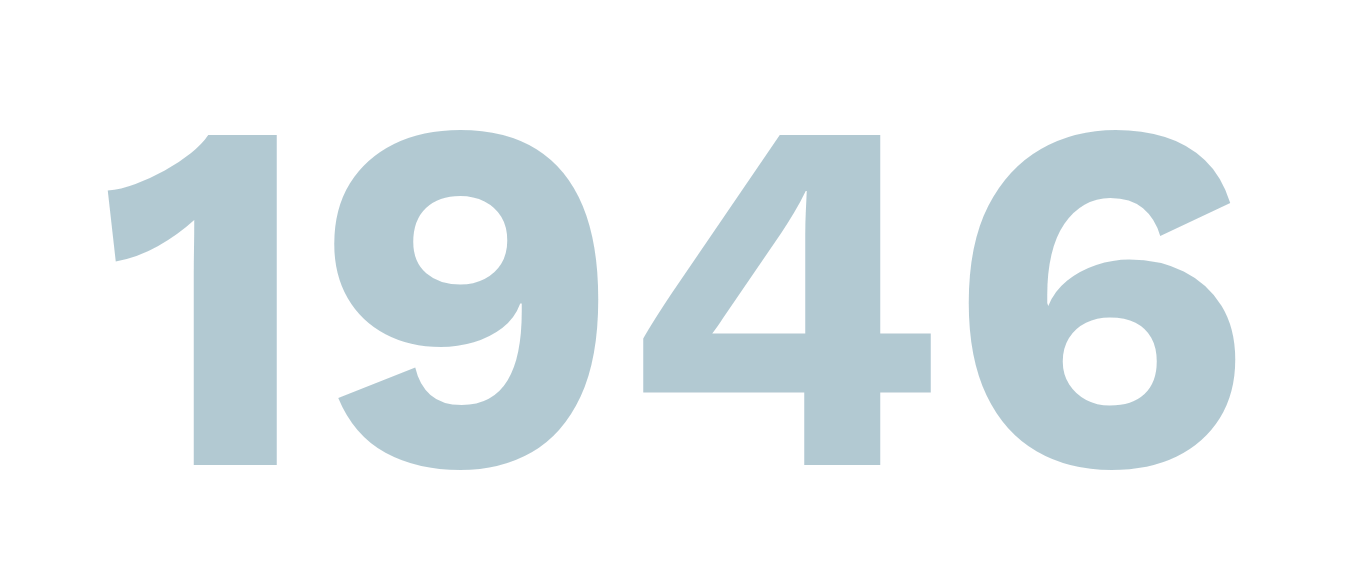 On January 29th, Bluenose strikes a coral reef off Île à Vache, Haiti and sinks.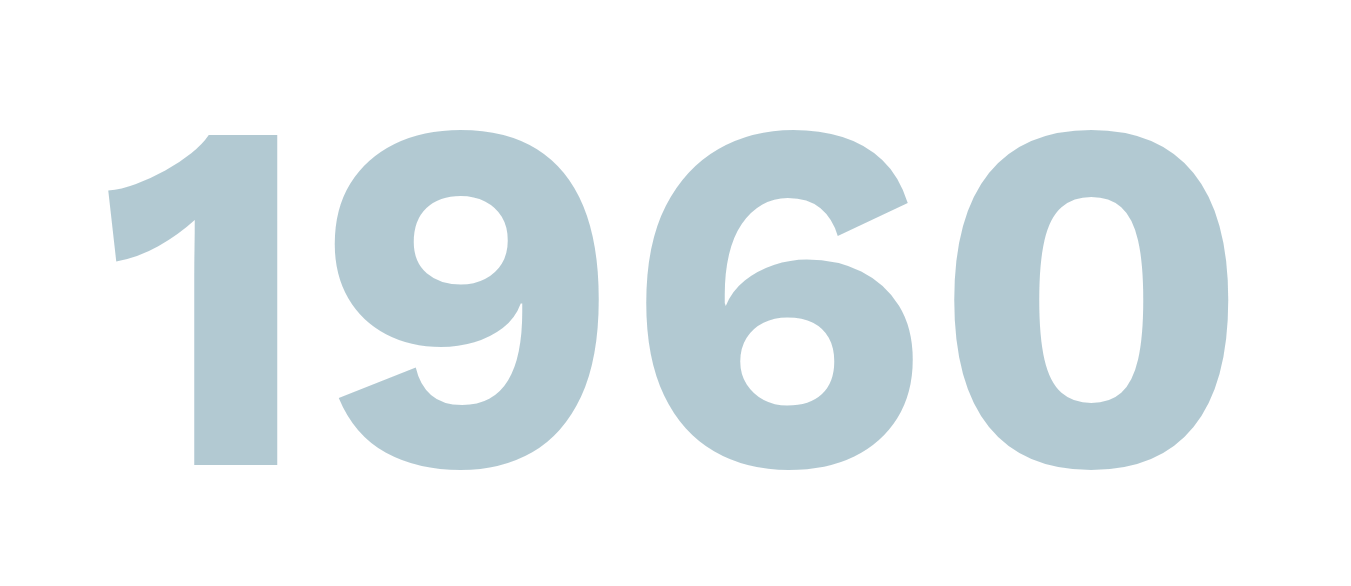 Smith and Rhuland, the Lunenburg master shipwrights who built Bluenose, is commissioned by MGM to build a replica of the sailing ship Bounty for their new film, Mutiny on the Bounty. Lunenburgers believe a replica of Bluenose would be a great tourist attraction.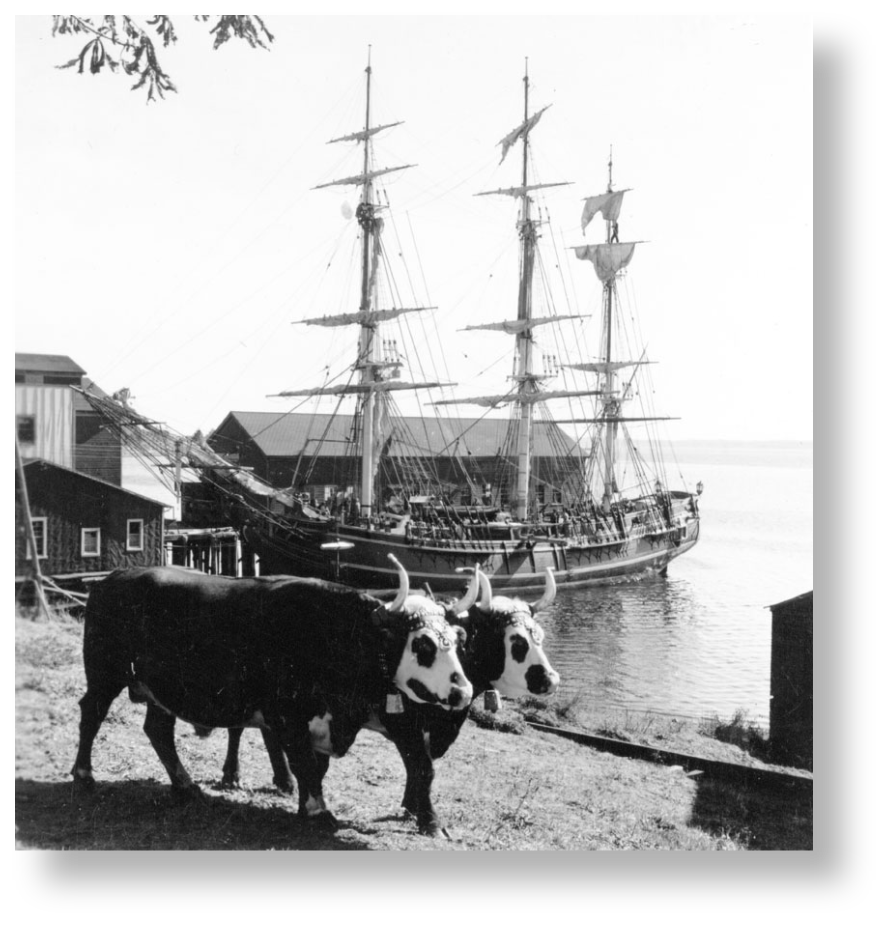 1962
The Halifax Oland brewery, searching for a mascot for its Schooner beer, puts up the $200,000 to build Bluenose II.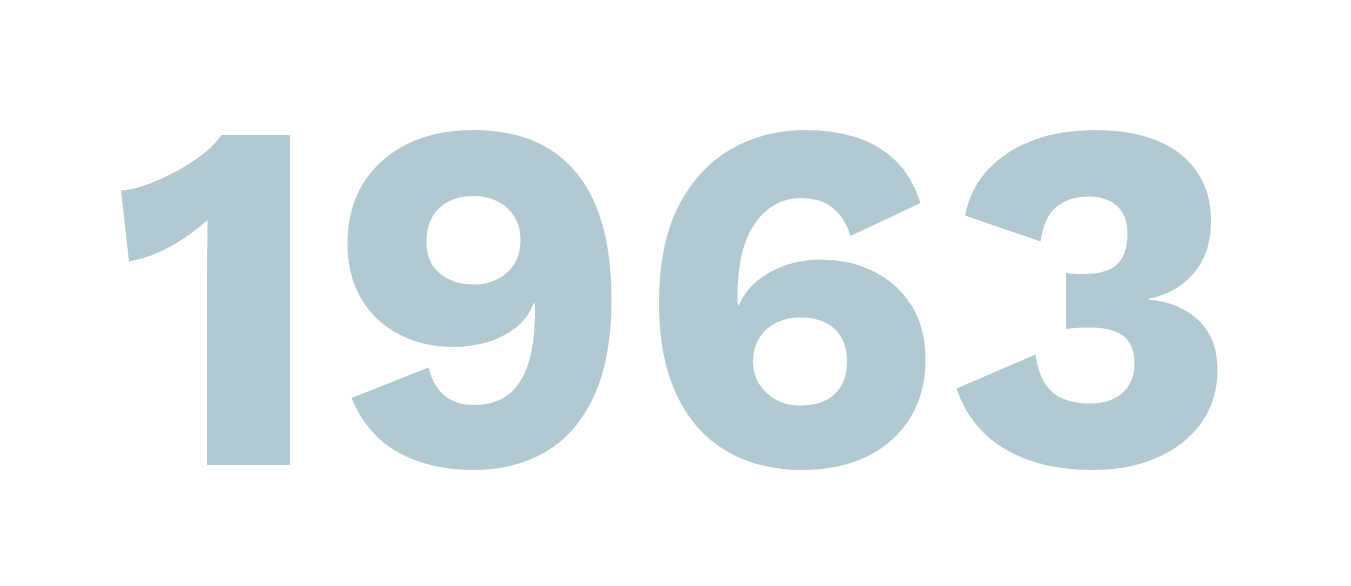 On July 24th, Bluenose II is launched in Lunenburg Harbour. Captain Angus Walters sails on her maiden voyage.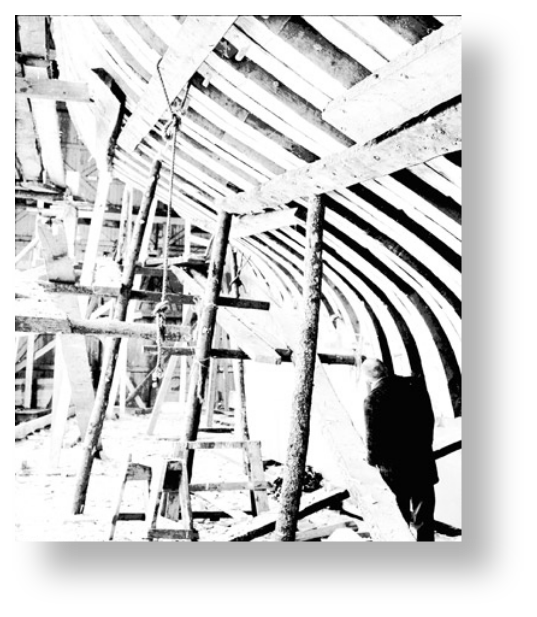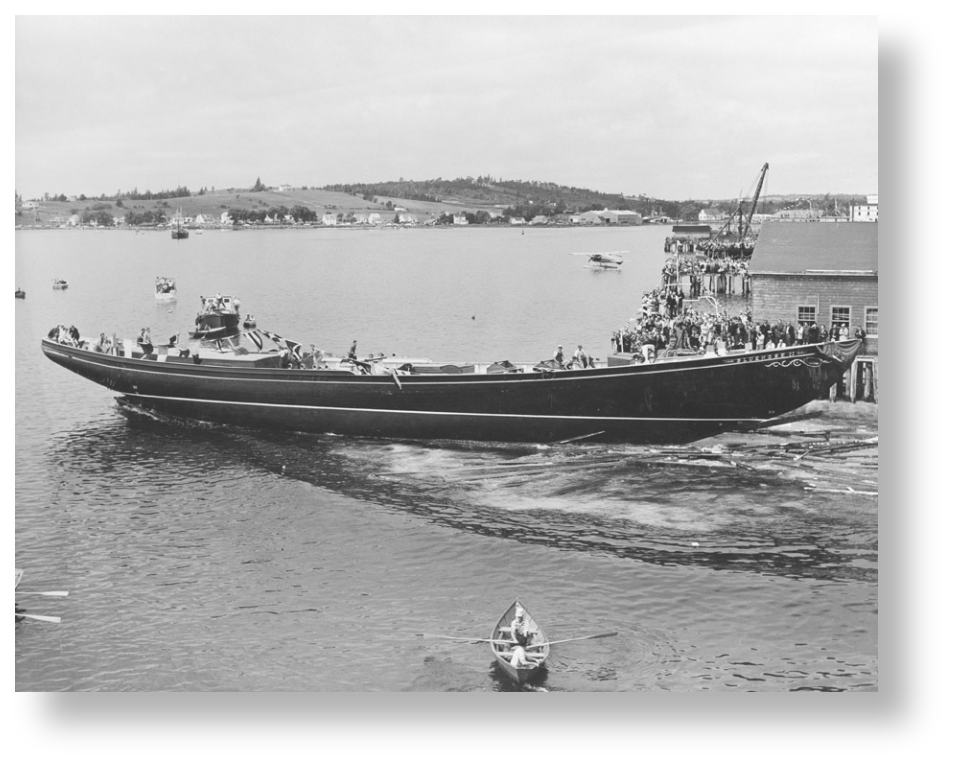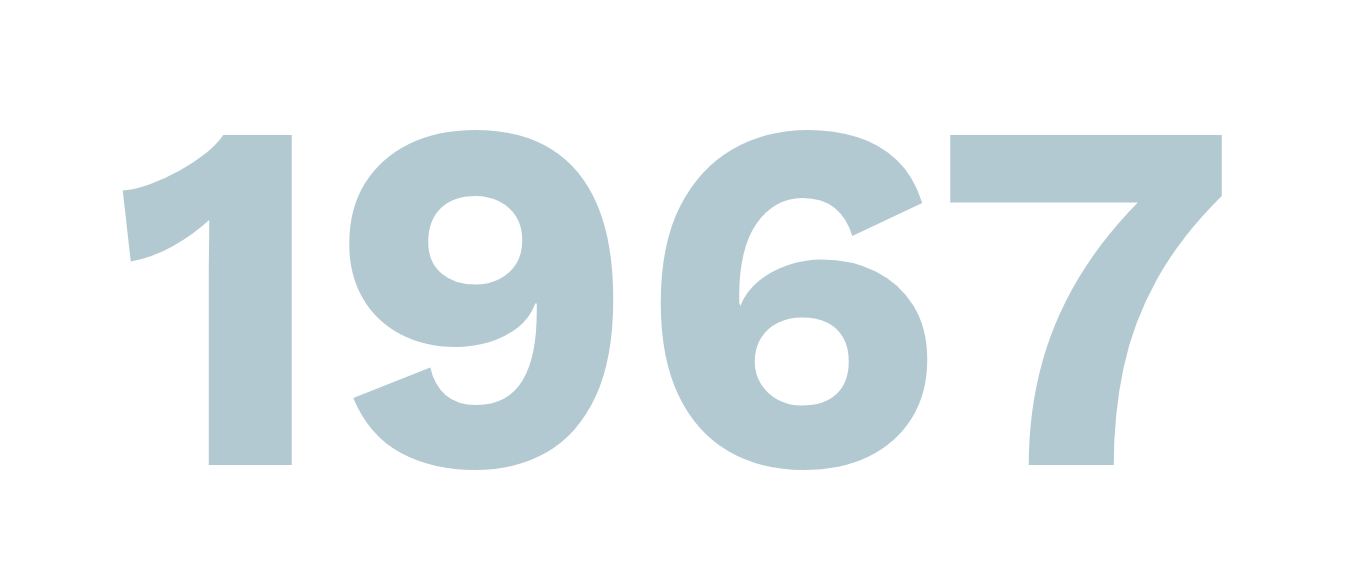 Bluenose II proudly showcases Nova Scotia fishing heritage at Expo 67 in Montreal, Quebec during Canada's Centennial celebrations.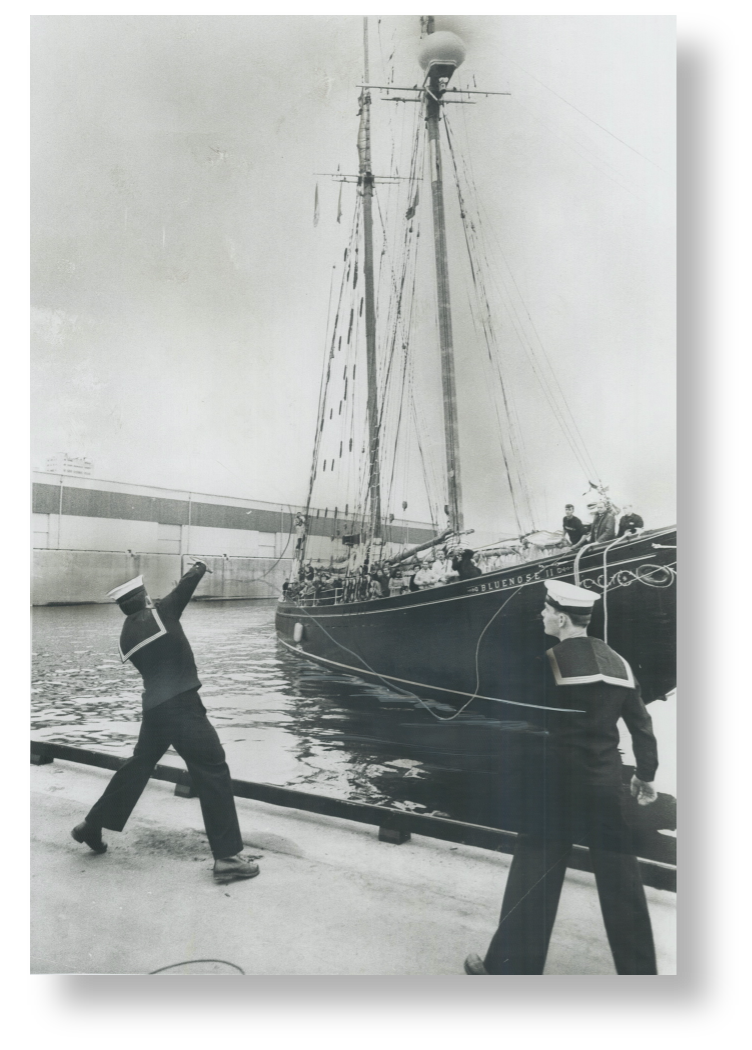 1971
Bluenose II is sold to the province of Nova Scotia for $1 dollar, ceremoniously paid for with 10 dimes.
1976
Alongside other majestic tall ships from around the world, Bluenose II attends the tall ship festival in New York City Harbour celebrating America's Bicentennial.
1986
Sailing through the Panama Canal to the Pacific Ocean, Bluenose II is a featured attraction at Vancouver's World Fair.
1994
Bluenose II Preservation Trust is formed to operate and maintain the aging vessel. Angus Walter's grandson, Wayne Walters, takes command.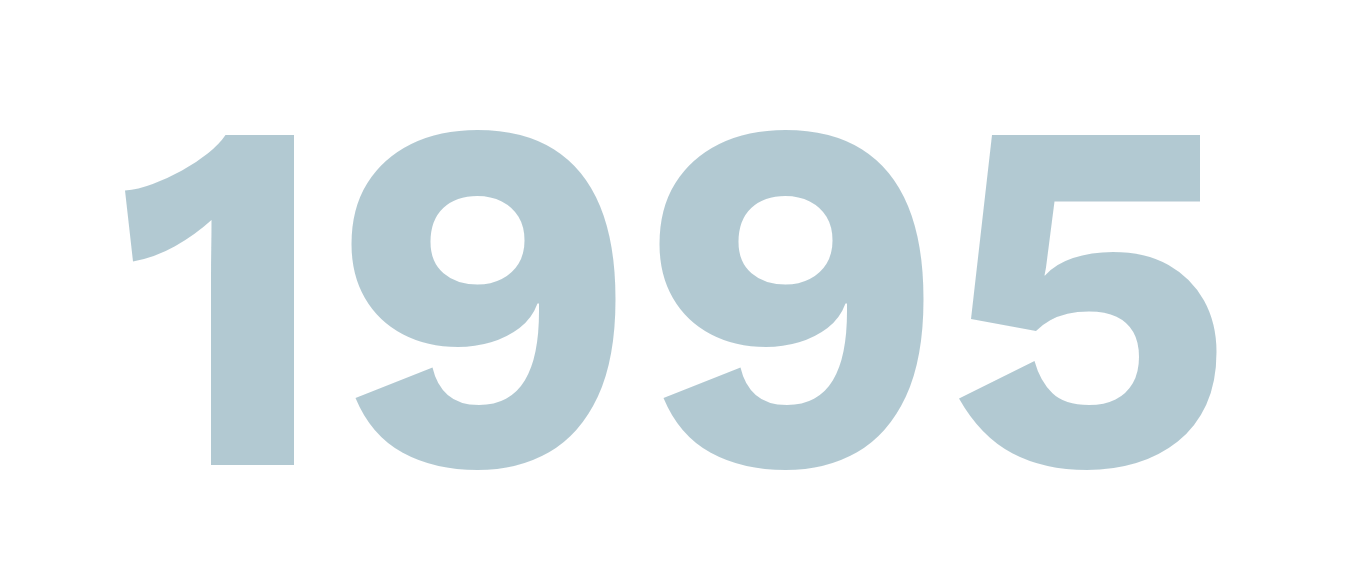 World leaders attending the G7 Summit in Halifax take a cruise on Bluenose II.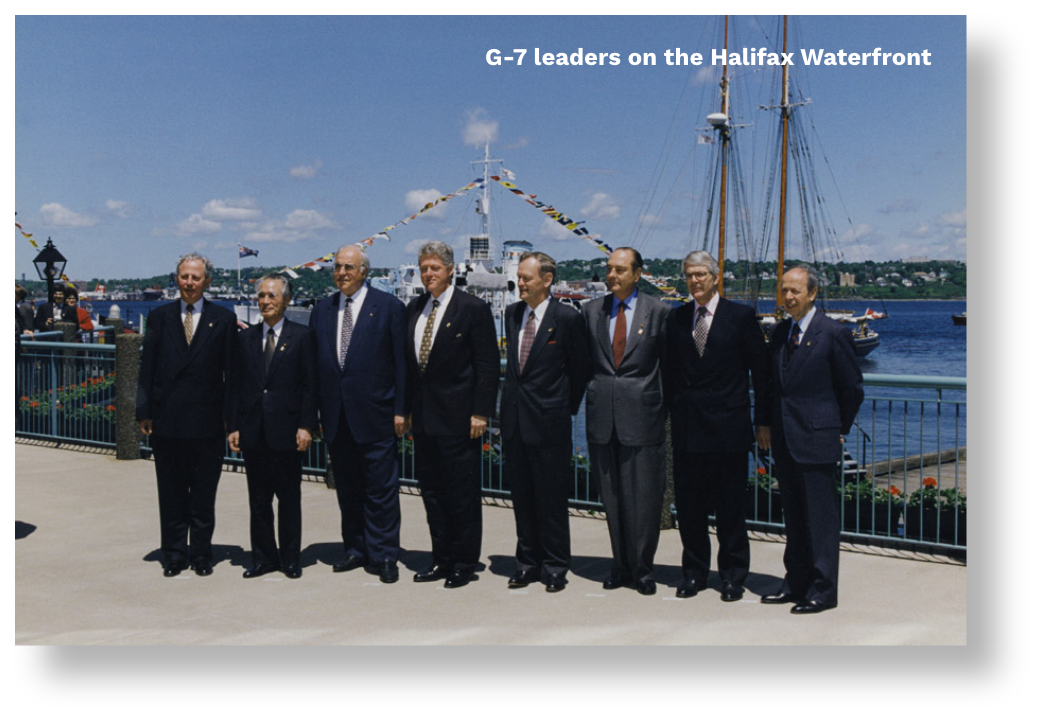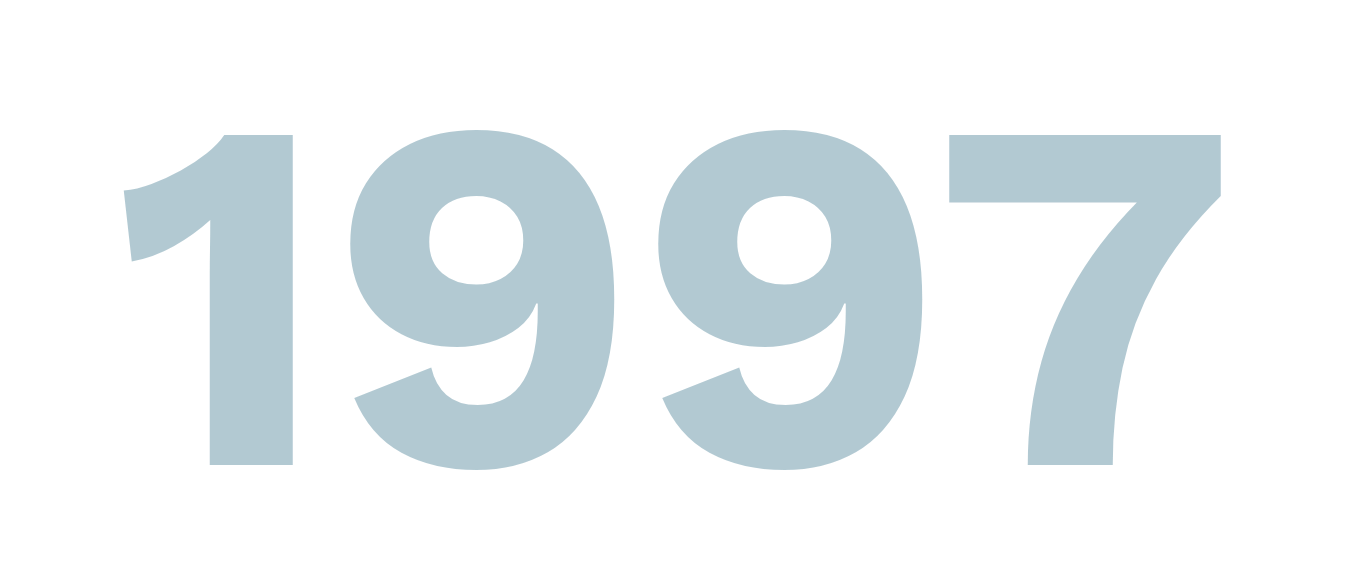 Bluenose II is given the distinct honour of being the first ship to sail underneath Prince Edward Island's Confederation Bridge.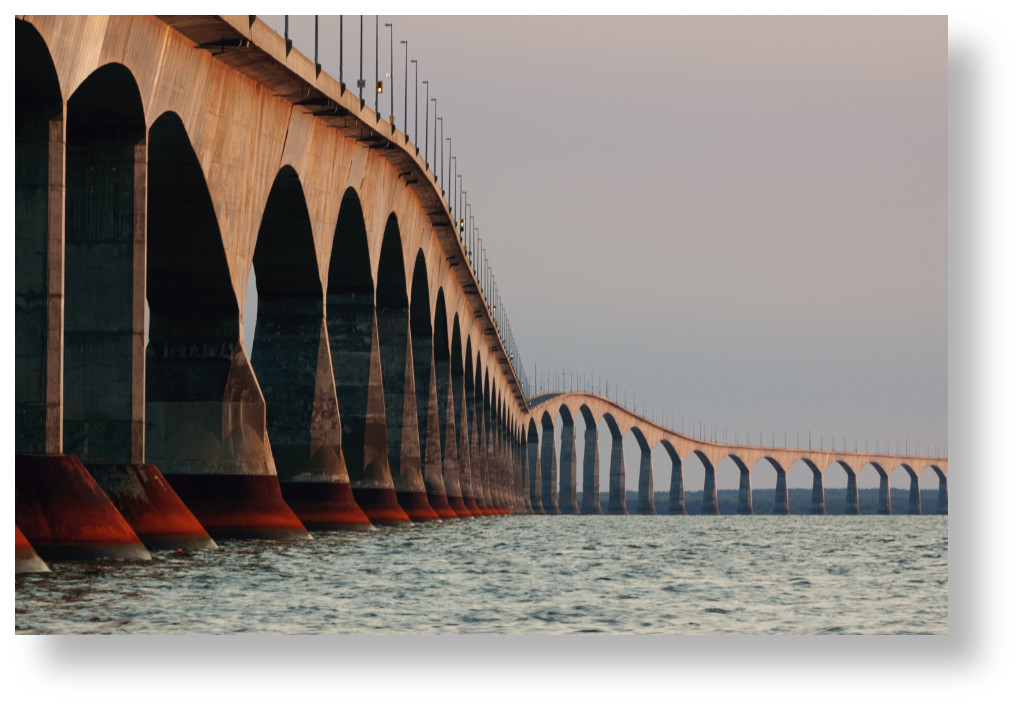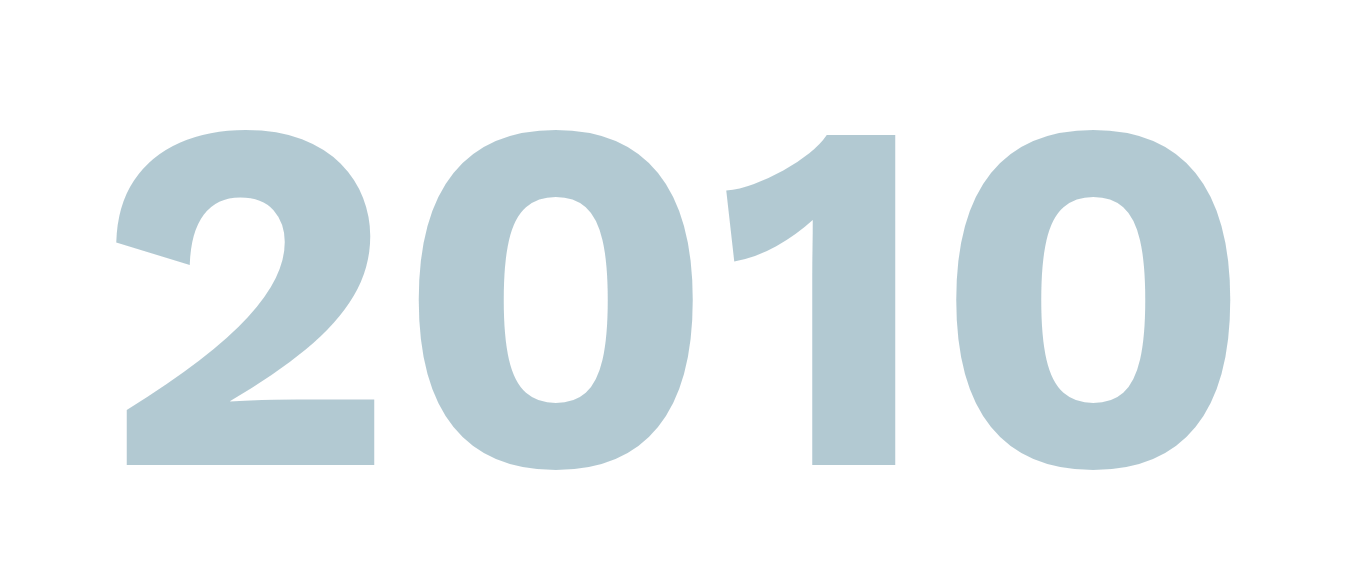 After 47-years at sea Bluenose II, having withstood the ravages of time twice as long as her namesake, needs to be reconstructed. The contract is awarded to the Lunenburg Shipyard Alliance.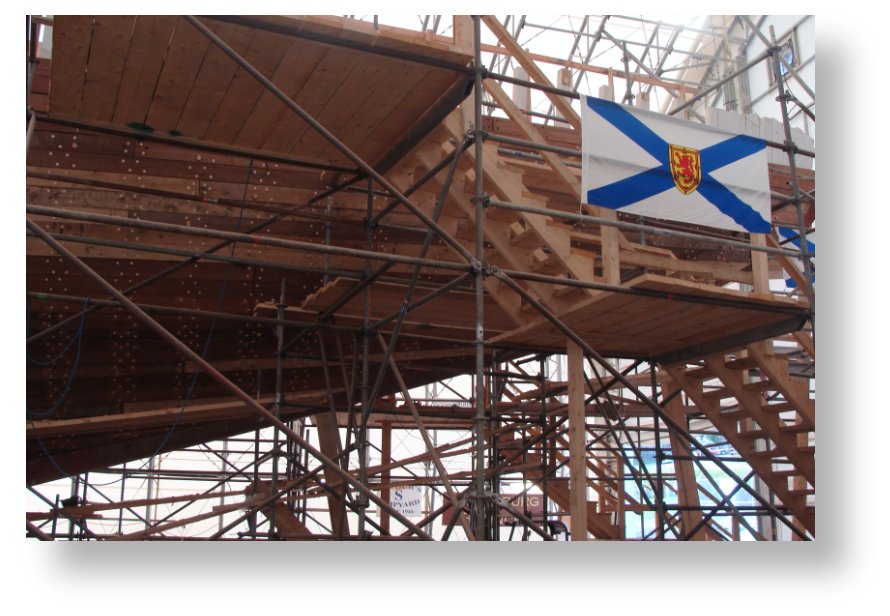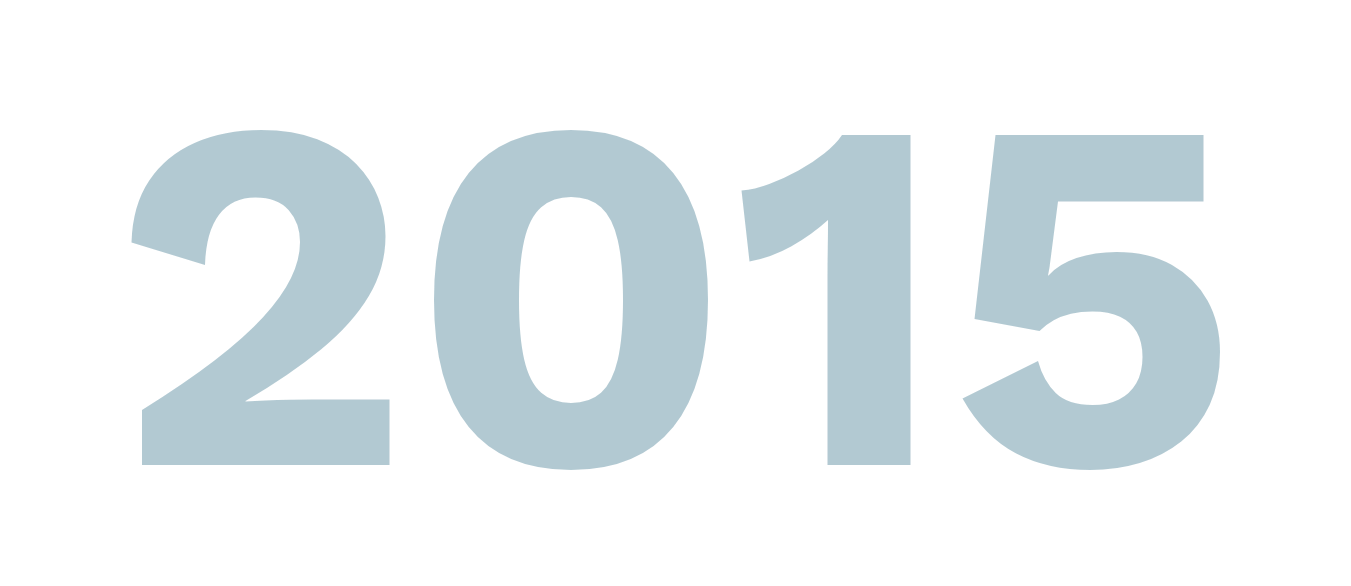 Bluenose II resumes her public cruises and open deck visits.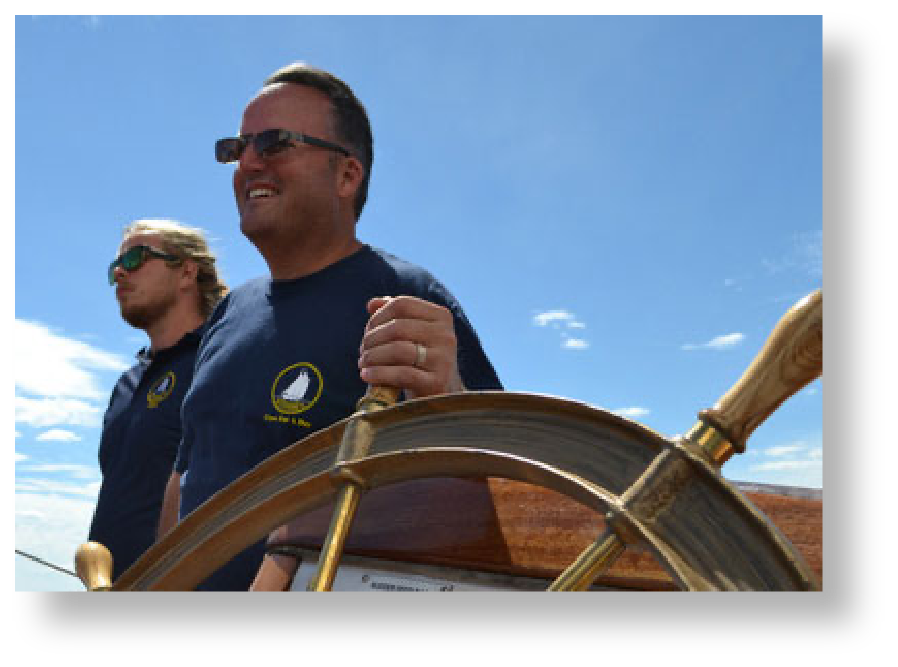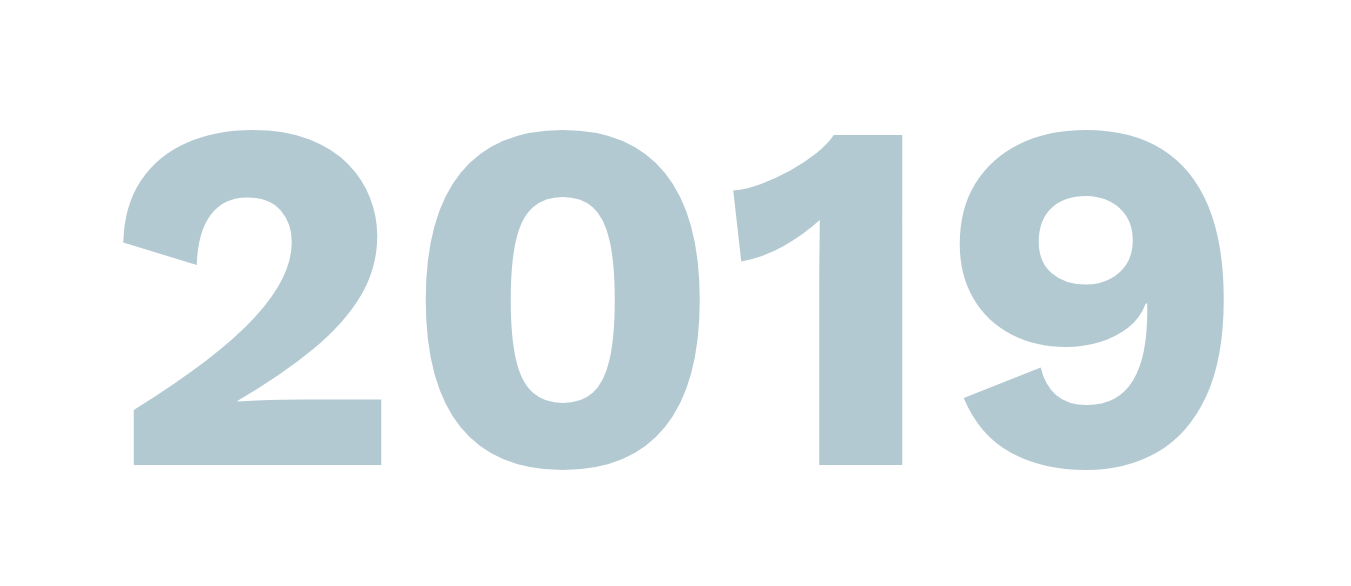 Bluenose II recreates the Century of Progress voyage. She once again represents the people of Nova Scotia and Canada in the Great Lakes.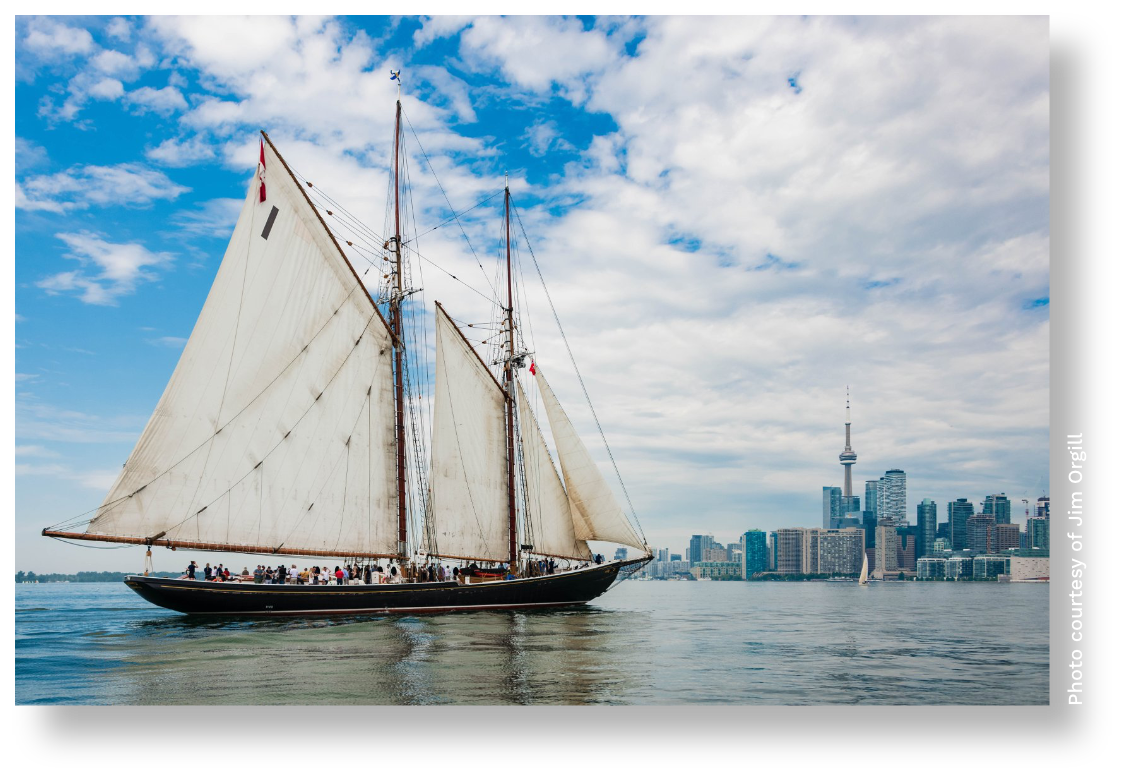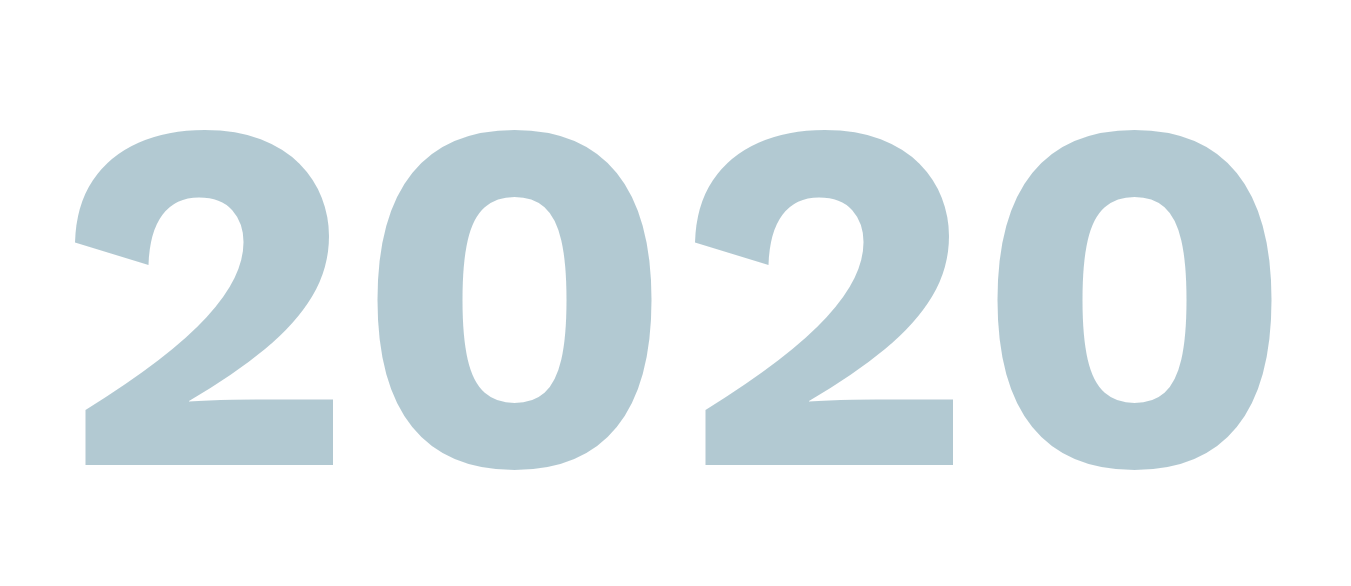 During the Covid-19 pandemic, Bluenose II goes on an inspirational voyage around Nova Scotia anchoring in the many ports that once held schooners, but can only tie up in her homeport of Lunenburg.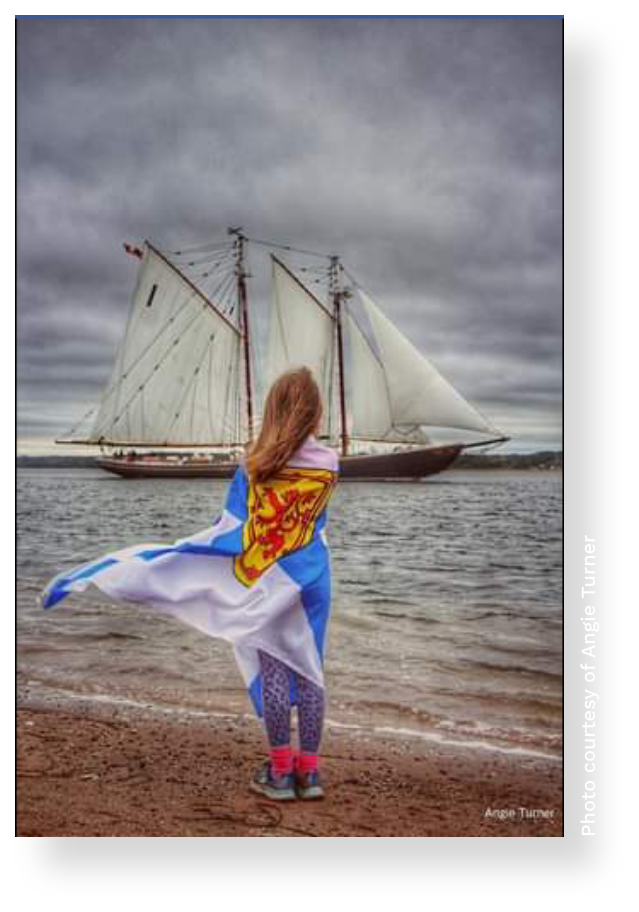 Bluenose's
100th
Anniversary!