Follow Bluenose
II
's 2021 Sail Past Summer through Captain Watson's log entries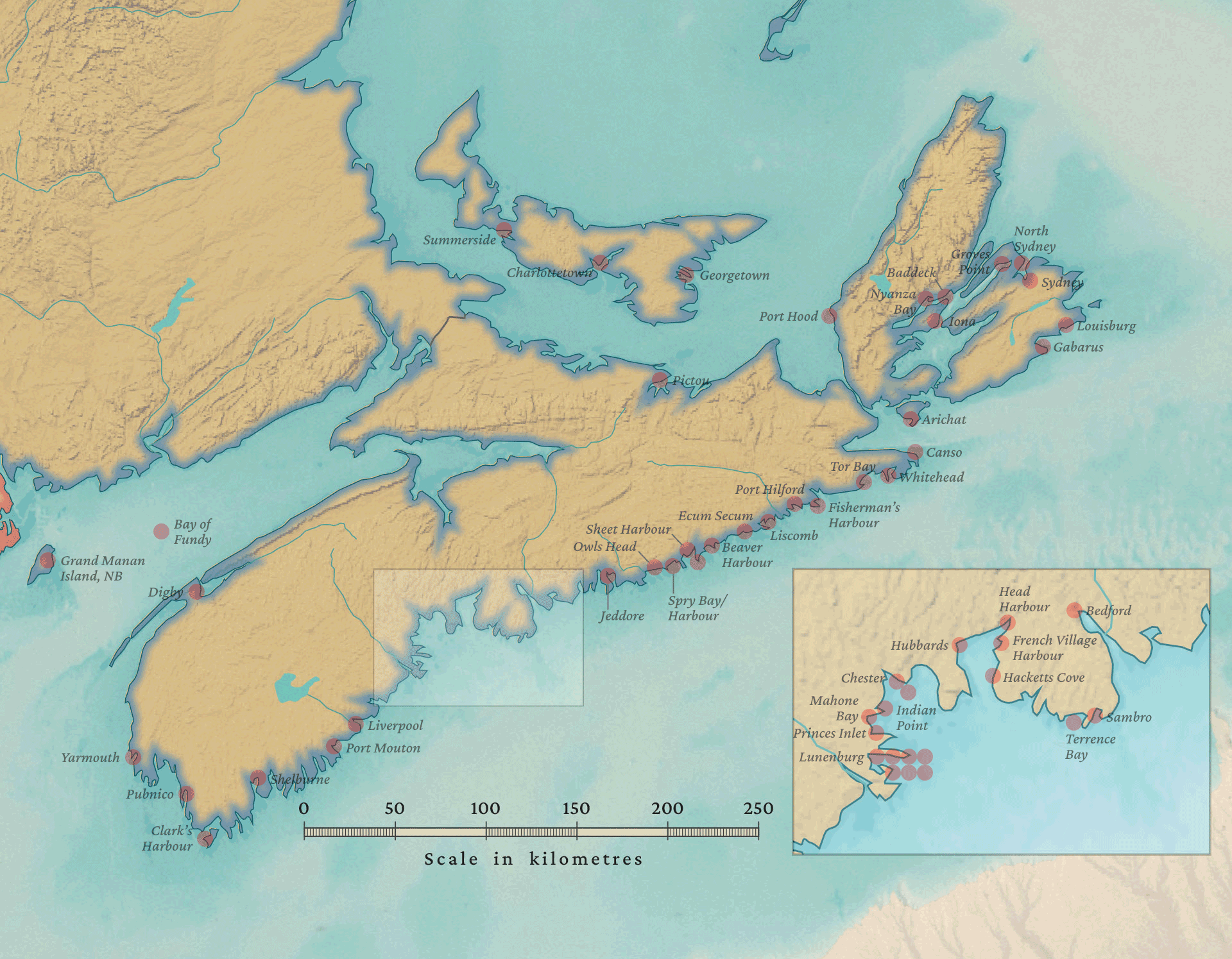 Bluenose
II
: Captain's Log
Apr 16, 2021
Fisheries Museum of the Atlantic – Lunenburg, NS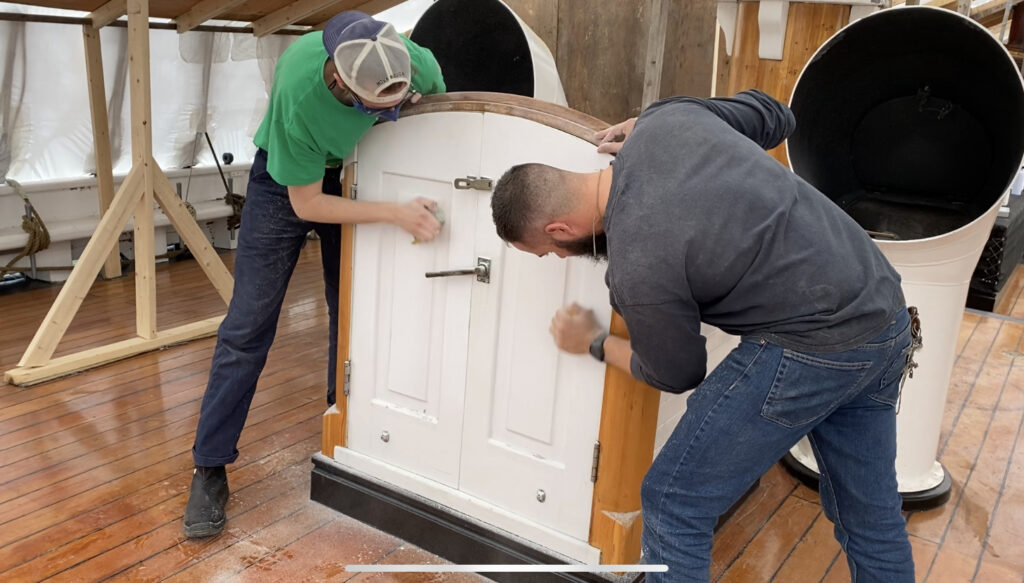 Good afternoon,
First of all, #1 priority, top of the list… A special hello to Elaine, who took the time to write from the lower 48 and share the stories of her family's ties to Lunenburg and Bluenose. What an exciting letter it was indeed! Sail makers, shipwrights, & police chiefs, Elaine's family was deeply embedded in Lunenburg's history. Although she is far away from the sea I'll bet if she was to hold a shell to her ear, it would be the shell that hears the ocean. Thank you, Elaine, for taking the time to write and share your story.
In ship news, nothing ever changes, it's always the same. The crew continue to work on the blocks and to paint the bulwarks. When working on the blocks, we always talk about Arthur Dauphinee. His block shop, originally run by his father, was established in 1900 here in Lunenburg. A few decades ago he moved out to second peninsula and has been there ever since. I don't know the future of a block shop in the days of Amazon and Alibaba but I do know it will be a marker in my timeline. Arthur has made blocks for Bluenose twice over and for many, many other ships. Columbia, Spirit of Massachusetts, Moshulu and countless others have all benefited from Arthur's generational knowledge. 
Painting the bulwarks is another special job on Bluenose II. What could be easier than painting a white fence two and a half feet high? Ha! One of the stories that was passed down to me was when the owners sent out an auditor to find out where all the white paint was going. After complaining he eventually measured the surface area of the bulwarks, stanchions and rails and finally realized what a job it is! Scrapping, sanding, and multiple coats of paint sure take a long time. The crew are tired at the end of the day to be sure.
Bluenose 100 celebrations continue and provide us with a chance to look deeper into the history of Nova Scotia. The good and the bad. It's all there if you look and shining light on the past is never a bad thing. When you live in an old house you should look at the foundations once in a while and fix what is broken.
Apr 13, 2021
Fisheries Museum of the Atlantic
Lunenburg NS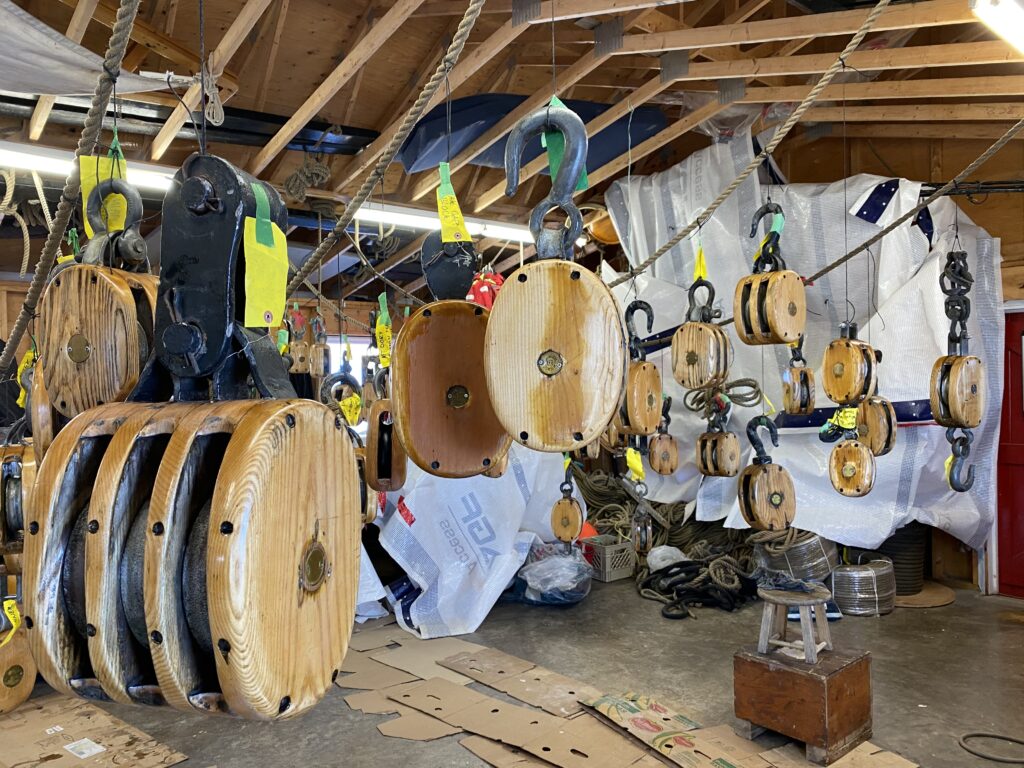 Good Morning,
The weather rules the ship these days, as it does all days, but spring weather on the Lunenburg waterfront can at times seem capricious. We have had some warm, wonderful days lately, holding the promise of spring and the summer to follow. We also have stark reminders of the winter just past and how close it is around us. If the wind comes off the water Lunenburg immediately lowers in temperature. The near shore sea water is just over four degrees so any air that blows over it immediately cools down. Today the wind is out of the north and brings the message that winter is only grudgingly retreating. 
So what does all that mean for us? Lots of planning on the mate's behalf to be sure. We have three basic work areas at this time of year. We have our rigging shed, the rigging yard and under the winter cover aboard the vessel. Right now all the ship's blocks are hanging in the shed. They have been stripped apart, cleaned, inspected and sanded. Now they are being varnished under the watchful eyes of the mate and bosun. 
If the weather becomes really nice some of the crew are sent out into the rigging shed yard to work at the dories. We scrape and paint these every year as well. They are about 36-37 years old and are holding up well. The crew enjoy using them as we travel around and we use them more now than we have in the past. This is one of the legacies of Gail Atkinson's time aboard as chief mate. A keen dory racer and highliner, her competitive spirit and work ethic encouraged the crew to strive to be their best. Gail can often be seen rowing her dory around Lunenburg Harbour.
Under the winter cover the 2nd mate has a team scraping the white bulwarks and black covering boards. No matter how careful we are, water is our constant enemy and slowly lifts paint from the wood. We scrape, dry and sand the wood and then leave it for a while. We then go back over all surfaces and make sure that we have good strong adhesion on the edges of the paint and then away they go with the primer. All this is done with a keen eye on the weather particularly humidity and temperature as we try to get the best paint job possible.
In any case the work continues and time is relentless, we are however up to the task and as was the case 100 years ago on the freshly launched Bluenose, we will carry on so that our crew can see what life is like on a schooner on the other side of Battery Point.
Apr 5, 2021
Fisheries Museum of the Atlantic
Lunenburg NS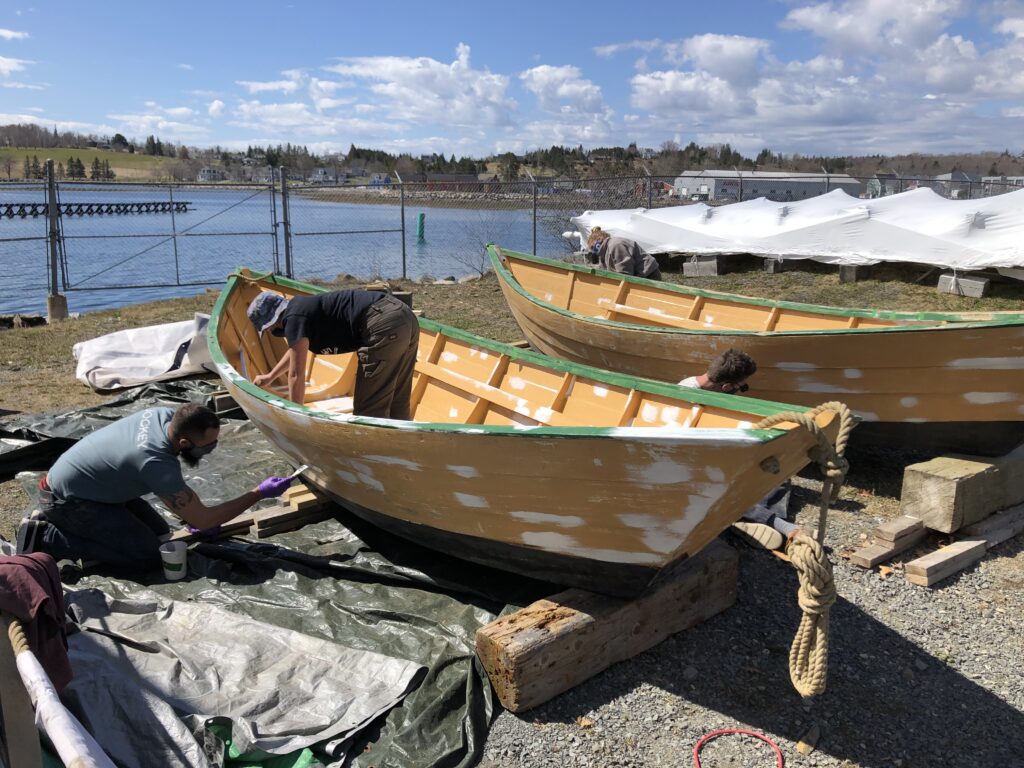 Good afternoon,
It has turned into a glorious day here in Lunenburg. One of those days that hold the promise of the spring to come. However, I well know the waterfront weather in Nova Scotia and the false promises of a fine April day. My crew on the other hand are young and optimistic and keen to get at it and to learn and do. Under the guidance of the mates, they have scraped the bulwarks aboard the ship and left them to dry for a while. In the meantime, the fores'le spars and the jumbo boom have been given three coast of varnish and been moved from the rigging shed to the wharf. This was in order to make room for one of our annual big spring projects. Every year we take apart every block on the ship and clean, inspect and re-grease it. Each of the 120 or so blocks is scraped and sanded as necessary and then given three coats of varnish. This will take the best part of a week but is necessary before we can begin rigging up.
We also uncovered our dories today. These dories are a foot shorter than the traditional banks or trawl dory. They suit us well and have been with Bluenose II longer than I have. The dory shop here in town has a great line of dories and you can compare size and use on their website. "The Dory Shop" . There is of course the Dory shop museum in Shelburne
Dory Shop Museum where you can learn about dories and why the Lunenburg dory is superior. Sorry, there is a long-standing rivalry between Lunenburg with its grown knees and Shelburne with its sawn knees used in dory construction. The rivalry is a great way to learn about the heritage of the dory and how the differences in each community impacted construction. Of course, the Portuguese had a dory-based fishing fleet off Newfoundland until the 50's. Portuguese Dory. Look up the Portuguese White Fleet sometime.
Now here is the point of today's note. We can take a little piece of Bluenose II. Just a small boat that the crew row, sail and have fun in. From that little boat we can link to two museums, and a local business. I didn't even mention our own Fisheries Museum of the Atlantic and their Banks Fishery Display. 2nd Floor We could expand to look at where the wood came from, who made the nails or paint and what dories from around the world looked like. Maritime history is immensely fascinating and seemingly never ending. Our little ship here in Lunenburg is a great living lens to focus on our world as it was and how that relates to what is, both the good and the bad.
That's all for today. Fair winds,
Capt. Watson
Apr 3, 2021
Fisheries Museum of the Atlantic
Lunenburg NS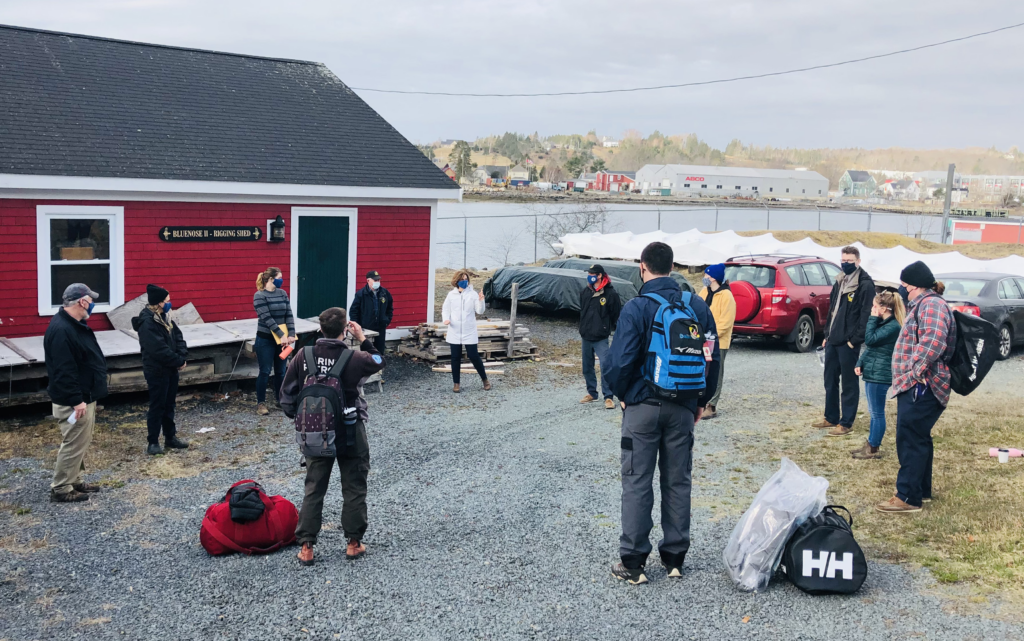 Good Morning All,
I'm sitting in the officer's mess of Bluenose II contemplating life. It's been years and years since I have been tasked to write a Captains log. I'm looking forward to exercising my long dormant creative writing muscles and hope to share an insight into our summer aboard the ship both from the technical side of the operation and also a look into our lives. If you have any questions, please send along an email and I will do my best to answer.
This year marks a particularly momentous occasion in our Bluenose life. One hundred years ago, Capt. Angus Walters and his crew, local riggers, blacksmiths, William J Roué and the crew from Smith and Rhuland shipyard were working hard to rig out a freshly launched Bluenose and make her ready for a salt fish trip. The Bluenose 100 committee have done an incredible job of collecting and collating new material and stories about our beloved schooner and those that helped her become the Canadian icon that was her destiny. There will be lots more about Bluenose 100 as we make way through the upcoming season.
Now, let's move 100 years into the future. The officers and I welcomed the first of the crew on the first of April. Of course, the ubiquitous SARS Covid virus is always a present threat and we all showed up with a recent negative test. We have a very good medical advisor who keeps us on the straight and narrow. Covid fatigue is a thing, and he often reminds us that the virus doesn't care, and physics is physics. The crew this year, as always, is a mix of new and returning faces. I'm very pleased to have the officers return en mass. As with any organization this makes for much better institutional knowledge and a safer ship all round. As we start to post video and photos you will certainly recognize some faces and I hope welcome the new ones.
First day back is always a flurry of activity. Names to be learned, forgotten and learned again. Bunks to be chosen and made up with fresh bedding. In the afternoon there was a load of groceries to be passed aboard, likely more groceries than any new crew member has ever seen. Starting on a long weekend makes life difficult but to quote Chaucer, "time and tide wait for no man". We will get around it all. Of course, we don't just show up on a day and turn on the lights. Dale and Vandon, cook and engineer, were aboard through the week getting everything ready. Fridges and freezers were activated, water systems run through and new filters put in place. Of course, a new load of fresh water was taken aboard, the two worked hard to make sure the hotel systems were up and running and ready.
That's it for today. I'm glad to be back aboard. I'm looking forward to the coming months and to sharing our adventures.