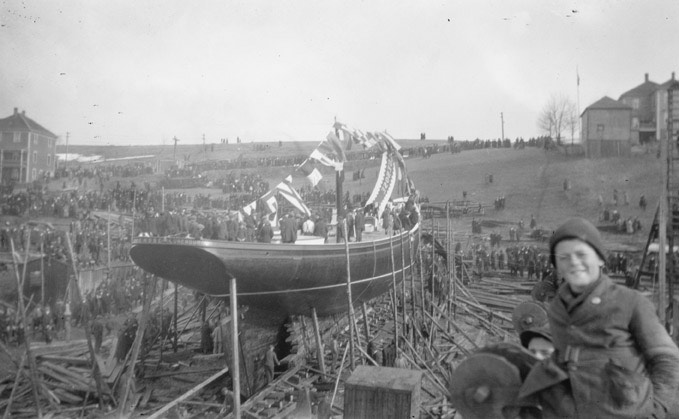 The day was March 26th, 1921. Schooner BLUENOSE was set to be launched from the Smith & Rhuland Shipyard, in Lunenburg.
But if BLUENOSE was built on land — how did they plan to get it in the water without the technology we have today? The answer is with a big SPLASH!
When a vessel is put back in the water today, the day it is scheduled is often called splash day, and here is why:
When the keel is laid for a vessel such as BLUENOSE, it is built on blocks; appropriately called keel blocks — but how do you get a vessel in the water that is resting on blocks? Well, BLUENOSE (and all other vessels in Lunenburg) were built on the sloping shore. Using gravity to their advantage, the launch gear essentially created a slide for the vessel.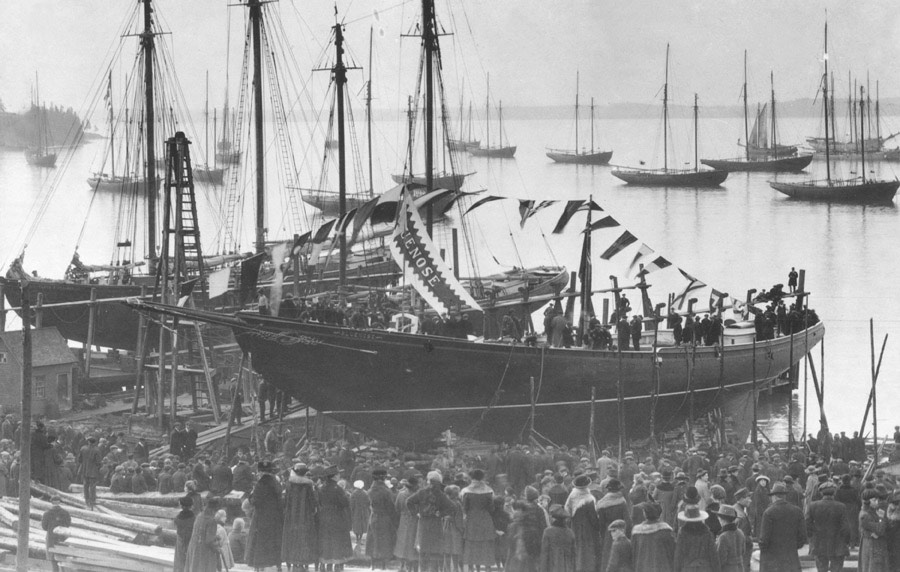 On either side of the vessel there were groundways, which extended from the shore, into the water. On top of the groundways, packing would be installed around the hull of the vessel. 'Packing' referred to individual timbers, which would be stacked horizontally on top of one another, to create a cradle for the vessel's hull. The groundways would be greased (with seaweed, banana peels or tallow) and the packing would ultimately help the vessel slide down the ways. The packing was held together with vertical timbers, and had multiple chains that ran from one side, underneath the hull, where it was attached to the packing on the other side.
In order to lift the vessel up off of the keel blocks it was resting on, wooden wedges (about 3 to 4 inches) would be driven in, between the packing and the groundways — that would be just enough to get the vessel up off of the keel blocks and resting on the chains.
The keel blocks would then be removed by the shipwrights, who had to crawl under the vessel to remove them — so there were two brake systems put in place: the iron dogs and the tripshore. The iron dogs looked like large iron staples that held the packing to the groundways, and would be removed with a larger wooden wedge. The command to do so was "dogs out!" The final brake was the tripshore, which was a long timber wedged diagonally against a horizontal timber on the packing. 
When the final command "KNOCK DOWN!" was given, the tripshore would be hammered down and the vessel would slide down the ways and into the water with lots of fanfare and a big splash!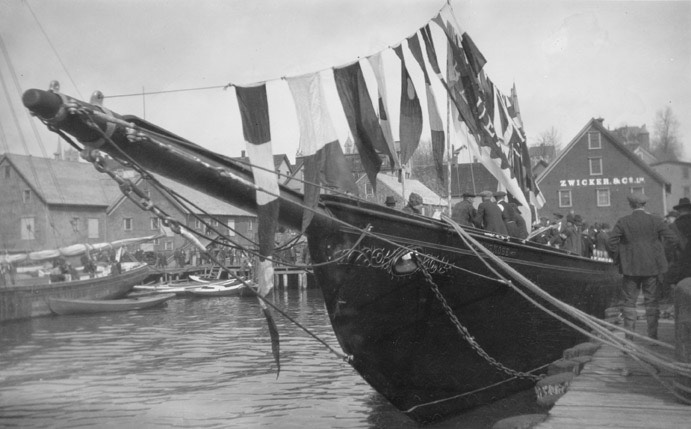 To learn more about how schooners, such as BLUENOSE were launched in Lunenburg, the Fisheries Museum of the Atlantic has excellent programming — they house the BLUENOSE Collection; where artifacts and memorabilia tell the incredible story of the Queen of the North Atlantic, as well as a model schooner launch demonstration; where visitors can participate in launching a five-foot model schooner in the traditional way!
To learn more about the Fisheries Museum of the Atlantic, and their 2021 season opening, visit fisheriesmuseum.novascotia.ca
Images courtesy of: the Fisheries Museum of the Atlantic & the Nova Scotia Archives/W.R. MacAskill Collection
All Items